Bachelor of Commerce (B.Com): Navigating the Path to Business Excellence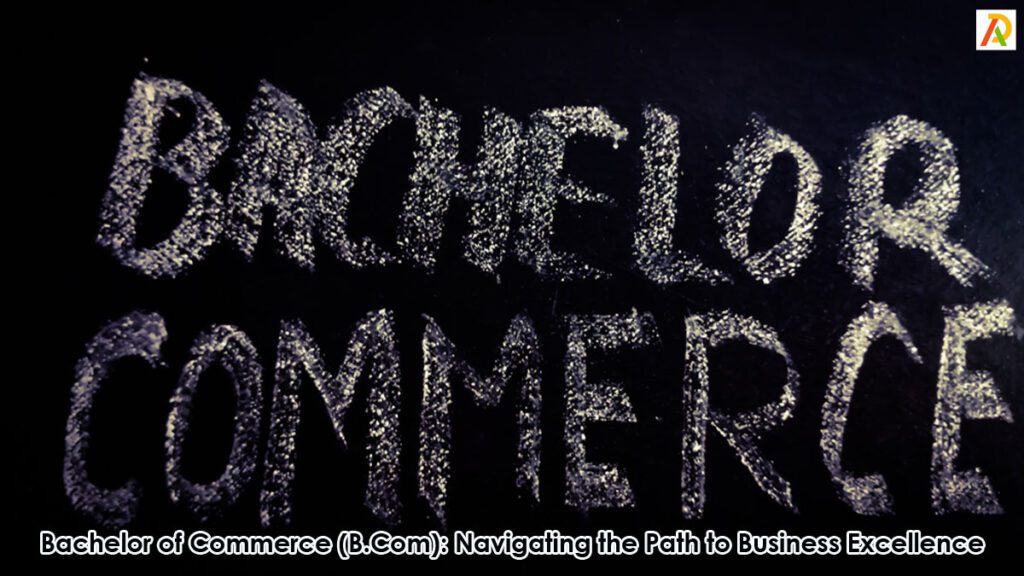 In the dynamic landscape of education, a Bachelor of Commerce (B.Com) stands tall as a versatile and widely pursued undergraduate degree. It offers a comprehensive understanding of various aspects of business, finance, and economics. B Com equips students with the knowledge and skills required to thrive in the corporate world. This article delves into the intricate details of the B.Com course, from its highlights to career opportunities. It will guide aspiring students toward informed decisions about their academic and professional journey.
Highlights of B Com Course
The B Com curriculum encompasses an array of subjects, including accounting, economics, finance, marketing, and management. Students get exposure to real-world scenarios through case studies, presentations, and internships. The course promotes critical thinking, problem-solving, and analytical skills, fostering holistic development.

B.Com Course Duration
The typical duration of a B.Com course is three years, divided into six semesters. Some institutions may offer variations, such as part-time or accelerated programs, catering to diverse student needs.
B.Com Course Eligibility Criteria
To enroll in a B.Com program, candidates must have completed their higher secondary education (10+2) from a recognized board. A background in commerce gets preference, but students from other streams can also pursue B.Com with the necessary foundation courses.
One has to pass the 12th standard (10+2) in the commerce stream
Students who have completed the 12th standard from other streams may also be eligible based on the discretion of the college or university.
There are cut-off percentages for colleges. One must have scored higher than or equal to the cut-off marks. Only then he will get admission. Colleges continue diminishing cut-off marks till all the seats become filled.
Regardless of the candidate's percentage, private colleges can allow direct admission.
B.Com Admission Process
Admission to B.Com programs is primarily based on merit, with universities considering a candidate's 10+2 scores. Some institutions conduct entrance exams or interviews to evaluate aptitude and subject knowledge. Application procedures may vary, so aspiring students should keep track of deadlines and requirements.
Given below is the typical admission procedure one has to go through for the Bachelor of Commerce course:
After passing the 12th standard, one has to complete the university forms downloadable from the university website.
Complete the form in which you can furnish a list of chosen colleges.
You need to affix a soft copy of your 12th standard mark sheet with the form and pay the necessary online charges.
Based on your chosen colleges and 12th standard marks, you will receive admission.
In exceptional instances, you won't get admission into the college of your preference. However, you can hang around till the completion of the university admission process and move toward direct admission.
Certain universities might have a distinct admission process, but it won't vary much from the process mentioned above.
B.Com Course Fees
B.Com course fees vary widely depending on the institution, location, and facilities offered. Government-funded institutions tend to have lower fees compared to private colleges. Scholarships and financial aid options are often available to support deserving students.
Currently, the majority of B.Com. degree programs have a course fee range of INR 10,000 to 50,000. The fee structure might vary, although most colleges will ask for a particular amount of fee per year or semester.
B.Com Syllabus
The B.Com syllabus is designed to provide a comprehensive understanding of business concepts. Core subjects include Financial Accounting, Business Law, Microeconomics, Marketing Management, and Organizational Behavior. Elective courses allow students to specialize in areas like Banking and Finance, E-commerce, or Entrepreneurship.
The Bachelor of Commerce (B.Com) program offers a comprehensive curriculum that equips students with a solid foundation in various facets of business, economics, and commerce. Over three years, typically divided into six semesters, students delve into a wide range of subjects. They gain insights and skills that prepare them for a dynamic career in the corporate world. Below is an overview of the semester-wise subjects typically covered in a B.Com program:
Common Subjects
Economics
Accounts
Company Law
Mathematics
IT
Marketing
Banking & Financial systems
Tax
1st Semester
Economics
Accounts
Business Communication
Maths or Computer
Environment and Public Health
Computer Applications and IT
Second Language
English
2nd Semester
Economics
Accounts
Computers
Maths
General Awareness 1 and 2
Management
3rd Semester
Income Tax Laws
Indian Economy
Corporate Accounting – I
Banking and Insurance
Financial Markets and Institutions
Microeconomics – I
4th Semester
Corporate Accounting – II
Overheads SPL
Basics of Cost Accounting Labor
Elements of Company Law – II
Managerial Communication
Macroeconomics – II
Marketing Management
Business Communication
Indian Banking System and Central Banking
5th Semester
Cost Accounting
Income Tax
Banking and Financial systems
Entrepreneurship
Marketing Management
6th Semester
Marketing Management
Mercantile Law – II
B.Com. Indirect Taxes Paper 2
Advance Accounting Paper 2
Contemporary Indian Economics Issues and Policies
The specific subjects offered in each semester may vary based on the university or college's curriculum and any specializations chosen by the students. Additionally, some institutions may include internships, seminars, or workshops to provide practical exposure and real-world experience.
In conclusion, the semester-wise subjects of a B.Com program encompass a diverse range of topics. These collectively build a strong foundation in business and commerce. This comprehensive curriculum equips students with the knowledge and skills necessary to excel in the dynamic and competitive business landscape.
Salary after B.Com Course in India
After completing a B.Com degree, graduates can explore a range of entry-level positions in various industries. Salaries vary depending on the role, location, and company. On average, fresh B.Com graduates can expect a starting salary ranging from INR 2.5 to 5 lakhs per annum. Pay raises, elevations, and job shifts can only better your salary figures.
List of B.Com Specializations
B.Com offers a diverse array of specializations, enabling students to tailor their education to specific career goals. Some popular specializations include Accounting and Finance, Marketing, Human Resources, Banking and Insurance, and International Business.
B.Com Scope in India
The scope of B.Com in India is extensive, as it opens doors to both traditional and emerging sectors. Graduates can pursue careers in finance, accounting, auditing, consulting, marketing, and government services. The evolving business landscape ensures a continuous demand for B.Com professionals.
Career or Job Opportunities after B.Com Degree
A B.Com degree serves as a stepping stone to a multitude of career opportunities. Graduates can work as Accountants, Financial Analysts, Marketing Executives, Tax Consultants, Human Resource Managers, and Business Development Executives, among others.
How to Choose Top B.Com College
Selecting the right B.Com College is crucial for a fulfilling academic journey. One should consider factors such as accreditation, faculty expertise, infrastructure, placement track record, and industry connections. Researching and visiting campuses can provide valuable insights.
Accreditation and Recognition:
Ensure the college has accreditation from a reputable educational body and recognition by relevant authorities.
Faculty Expertise:
Research the qualifications, industry experience, and teaching approach of the faculty members.
Curriculum and Specializations:
Check if the curriculum aligns with your academic and career goals, and if the college offers specialized areas of study.
Infrastructure and Facilities:
Assess the availability of modern classrooms, libraries, computer labs, and other essential facilities.
Placements and Internships:
Investigate the college's track record in terms of placement opportunities, internships, and industry connections.
Alumni Success:
Look into the achievements of the college's alumni, including their careers, positions, and contributions.
Industry Partnerships:
Find out if the college collaborates with reputable companies or organizations for workshops, seminars, and practical exposure.
Student Support Services:
Check for counseling services, academic support, and extracurricular activities that enhance overall development.
Location:
Consider the college's location in terms of accessibility, industry presence, and potential for networking.
Student Reviews and Feedback:
Seek opinions from current or past students to gain insights into the overall college experience.
Rankings and Reputation:
Research the college's ranking in national or international educational rankings.
Financial Considerations:
Evaluate tuition fees, scholarships, and financial aid options available.
Social and Cultural Environment:
Consider the diversity and inclusivity of the student body, as well as the overall campus culture.
Extracurricular Opportunities:
Look for clubs, student organizations, and events that provide opportunities for personal growth and skill development.
Research Opportunities:
Check if the college encourages or supports research initiatives among its students.
Remember that the "best" college is subjective and depends on your individual preferences, goals, and circumstances. Prioritize the factors that align with your aspirations and make an informed decision.
Top Companies Hiring B Com Graduates
Renowned companies actively seek B.Com graduates for their analytical and business acumen. Some top recruiters include Deloitte, KPMG, Ernst & Young, Amazon, ICICI, SBI, LIC, Tata Consultancy Services (TCS), and HDFC Bank, among others.
Benefits of Doing a B.Com Course
B.Com offers numerous benefits, including a strong foundation in business principles and diverse career options. It is a gateway to further studies like MBA or professional courses like CA, CS, and CMA. The practical exposure gained during the course enhances problem-solving and decision-making skills. More and more students are opting for this course because:
It is a professional course
There are openings in various jobs and industries
It acts as a springboard for higher studies
The course offers financial stability
There are ample entrepreneurship opportunities
Difference between B Com and B.Com (Hons)
The key difference between B.Com and B.Com (Hons) lies in the depth of specialization. B.Com (Hons) entails a more rigorous curriculum with focused studies in a chosen area, requiring additional credits and research projects. B.Com, while comprehensive, offers a broader overview of business disciplines.
Other Related Courses
Alongside B Com, students can explore related courses such as:
BBM (Bachelor of Business Management)
BBA (Bachelor of Business Administration)
Economics (B.A/B.Sc)
Bachelor of Computer Application (BCA)
BBS (Bachelor of Business Studies)
BMS (Bachelor of Management Studies)
Finance, and Accounting (B.F.A), to name a few.
These courses offer specialized insights into specific aspects of business and economics. Plenty of students pick these courses also, as they are commerce and business related, similar to B.Com. However, these courses might turn out to be costlier to pursue.
Required Skills for B Com Course
To excel in a B.Com program, students should cultivate strong analytical, communication, presentation, and problem-solving skills. Proficiency in mathematics, critical thinking, attention to detail, and adaptability are essential traits for success.
Conclusion
The Bachelor of Commerce (B Com) course emerges as a cornerstone of business education, paving the way for a promising future in the corporate realm. Aspiring students should assess their interests, career aspirations, and personal strengths before embarking on this educational journey. With the right skills, knowledge, and determination, B.Com graduates can confidently navigate the complexities of the business world. They can also contribute significantly to their chosen fields.
About Author