Banglarbhumi: Revolutionizing Land Records Management in West Bengal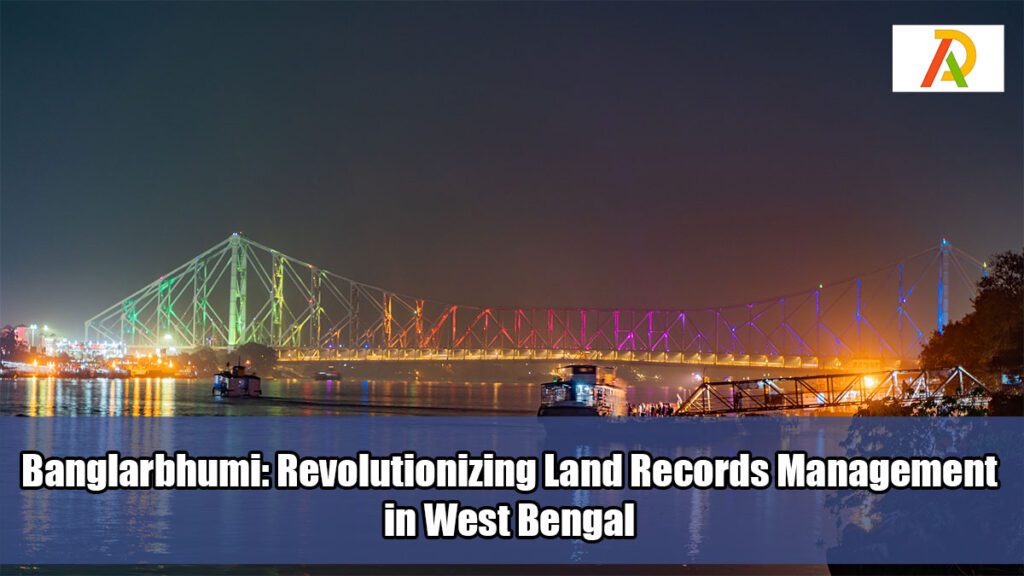 Land record management has always been an integral part of administrative systems in India, and digitization of these records has become an increasingly important objective. The West Bengal government's initiative, Banglarbhumi, has been a game-changer in this regard, enabling efficient and transparent management of land records.
Overview of Banglarbhumi
Banglarbhumi is the West Bengal government's web portal dedicated to land records and reform. Introduced by the Land and Land Reforms and Refugee Relief and Rehabilitation Department, the platform provides comprehensive data related to the state's land records and offers various services related to land and property.
Accessing Khatian & Plot Information on Banglarbhumi
One of the key features of the Banglarbhumi portal is the accessibility it provides to Khatian and Plot information. Here's how to navigate and use this feature:
Step 1: Visit the Banglarbhumi Website
Start by visiting the official Banglarbhumi website. On the homepage, you'll find a menu bar with different options.
Step 2: Access "Khatian & Plot Information"
On the menu bar, click on the "Khatian & Plot Information" option. This will redirect you to a new page.
Step 3: Enter Required Information
On the new page, you'll need to input details like the district, block, and mouza. Additionally, you can search by entering the Khatian number or the Plot number.
Step 4: Retrieve Information
After inputting the required details, click the 'View' button. You will then be presented with the relevant Khatian and plot information, including the owner's name, area of land, and the type of land, among other details.
This digitization and ease of access to critical land records like Khatian and Plot information have simplified property transactions, dispute resolution, and other land-related activities.
Impact of Banglarbhumi on Land Records Management
The Banglarbhumi initiative has been instrumental in revolutionizing land record management in West Bengal, resulting in numerous benefits:
Enhancing Transparency and Accessibility
Banglarbhumi enhances transparency and accessibility by providing all land-related information on a single platform. This prevents fraudulent transactions and assists in the faster resolution of land disputes.
Simplifying Land-Related Processes
Traditionally, obtaining Khatian and Plot information was a complex process that involved visiting government offices and navigating through paperwork. Banglarbhumi simplifies this process by making it available online, thus saving time and effort.
Promoting Digital Literacy
Banglarbhumi also contributes to promoting digital literacy as it encourages individuals to access and manage their land records online.
The Way Forward: Challenges and Opportunities
The Banglarbhumi initiative is certainly a step in the right direction in digital governance and land management. However, the path forward comes with its unique set of challenges and opportunities that need to be addressed to fully harness the potential of this platform.
Improving Digital Literacy
The effectiveness of a digital platform like Banglarbhumi relies heavily on the users' ability to navigate the system and understand the information presented. Despite an increasing trend in digital adoption, a significant segment of the population still lacks basic digital skills. This issue is particularly prevalent in rural areas where the bulk of land records are based.
Efforts must be made to educate citizens about using such platforms. Providing instructional guides in multiple regional languages, organizing training workshops, and promoting digital literacy in schools can help address this challenge.
Enhancing Internet Connectivity in Rural Areas
Internet penetration in India's rural areas is still not up to the mark. As a result, a significant portion of the population might not be able to use digital platforms like Banglarbhumi due to limited or no internet access.
Government initiatives aimed at enhancing rural connectivity, such as the BharatNet project, can be leveraged to overcome this challenge. The proliferation of affordable smartphones and data plans also presents an opportunity to increase internet accessibility.
Ensuring Data Privacy and Security
With the digitization of land records, ensuring data privacy and security becomes paramount. The Banglarbhumi platform handles sensitive data, and breaches could lead to significant problems, including fraudulent transactions.
Investing in robust security infrastructure, regularly updating security protocols, and complying with global best practices for data privacy and security can help mitigate these risks.
Despite these challenges, Banglarbhumi holds immense potential for the future. As technology evolves, the opportunities for enhancing the platform's functionalities and integrating it with other digital initiatives will increase. For instance, incorporating features like real-time updates on land transactions, interactive maps, and analytics could take the portal to the next level.
Moreover, the Banglarbhumi platform can serve as a model for other states in India, inspiring similar initiatives across the country. The learnings from implementing and managing Banglarbhumi can contribute to a more comprehensive and effective approach to digitizing land records at a national level.
In conclusion, while the journey of Banglarbhumi comes with its fair share of challenges, the opportunities it presents are much larger. With continued efforts from the government, ongoing digital advancements, and active participation from citizens, Banglarbhumi is poised to play a pivotal role in transforming land record management and strengthening e-governance in West Bengal and potentially, across India.
Conclusion
Banglarbhumi has revolutionized land record management in West Bengal, making it more accessible, transparent, and efficient. The portal, by digitizing Khatian and Plot information, has simplified land-related processes and increased citizen satisfaction. As the platform continues to evolve, it is set to further enhance the delivery of land-related services and contribute to the state's digital transformation.
About Author