Halloween recipes and spooky cocktails 2022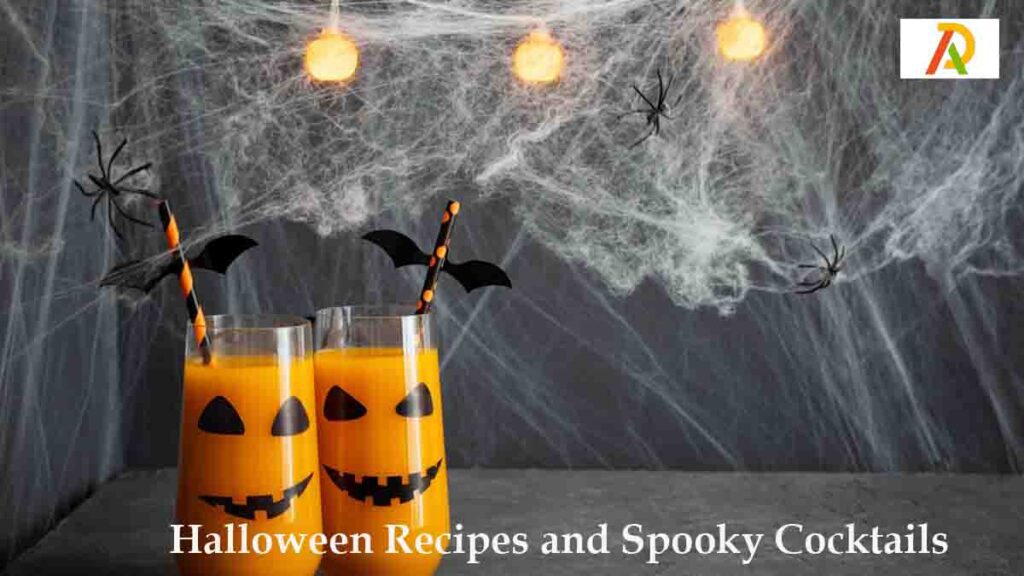 It's never too early to start planning for Halloween! Why not try something new this year and make your own Halloween recipes and spooky cocktails? This blog post will share some of our favorite Halloween recipes and spooky cocktails. From appetizers to main dishes to desserts, we've got you covered. And, of course, we'll include a few cocktail recipes to get you in the spirit. So, if you're looking for something new to make for Halloween this year or just want some inspiration, check out the blog!
Dirt pudding
Dirt pudding is a delicious and easy-to-make dessert that is perfect for any Halloween party. All you need is some chocolate pudding, Oreo cookies, and gummy worms. Simply crumble the cookies and mix them with the pudding. Then, top with gummy worms and serve. Your guests will be sure to enjoy this spooky treat!
Halloween cinnamon rolls
Ingredients:
1 can (11 oz) Pillsbury™ refrigerated cinnamon rolls with icing
1/2 teaspoon ground cinnamon
1 tablespoon sugar
1/4 cup butter, softened
Yellow and red food color
Cooking instructions:
1. Preheat oven to 350°F. Grease the bottom and sides of an 8×4-inch loaf pan with shortening or cooking spray. In a small bowl, stir together ground cinnamon and sugar; set aside.
2. Remove rolls from a can; do not unroll. With a serrated knife, cut the roll in half crosswise. Cut each half into six pieces for a total of 12 pieces. Arrange pieces in the pan, placing one piece in the center of each quadrant and two pieces along each side of the pan, dividing equally (8 pieces will be on the bottom layer, and four pieces will be on the top layer). Sprinkle reserved cinnamon-sugar mixture over rolls. Press the dough gently into the pan with floured hands, so all rolls are coated with the mixture.
3. Bake at 350°F for 20 to 25 minutes or until golden brown and no longer doughy in the center. Cool in pan for 5 minutes; remove to cooling rack. Cool completely, about 30 minutes.
4. In a small bowl beat butter with an electric mixer on medium speed until creamy; gradually add enough yellow food to make light orange buttercream icing (you may have some icing left over).5 Spread over cooled rolls using a small offset spat
Mummy dogs
Ingredients:
-8 all-beef hot dogs
-8 hot dog buns
-1 (15-ounce) can of refrigerated croissant dough
-1 egg, beaten
-Ketchup or yellow mustard for serving (optional)
Cooking instructions:
1. Preheat oven to 375 degrees F (190 degrees C).
2. Place hot dogs in buns on a baking sheet. Wrap a strip of dough around each hot dog and press the seams to seal. Brush beaten egg over dough.
3. Bake until golden brown, about 20 minutes. Serve with ketchup or mustard, if desired.
Halloween Rice Krispies
If you're looking for a simple yet festive treat to make this Halloween, look no further than these Rice Krispies! All you need is some basic ingredients that you probably already have in your pantry, and in just a few minutes, you'll have a tray of deliciousness that's sure to please both kids and adults alike.
To make these treats, simply start by melting some butter in a large pot over low heat. Once the butter has melted, add a package of mini marshmallows and stir until they're completely melted. Next, add 6 cups of Rice Krispies cereal and stir until evenly coated.
Once everything is combined, use a spoon or your hands to press the mixture into an 8×8-inch baking dish. Then let the mixture cool for about 15 minutes before cutting it into squares. You can use cookie cutters to cut out fun shapes to get creative. Whatever you do, enjoy!
Candy apples
Candy apples are a classic Halloween treat! And they're so easy to make at home! Just coat some apples in sticky syrup, then roll them in sugar or sprinkles. That's it!
You can experiment with different flavor combinations if you want to get creative. For example, try coating the apples in a caramel sauce, then rolling them in chocolate chips or crushed candy canes. Or go for a traditional flavor combo by coating the apples in cinnamon-sugar syrup, then rolling them in chopped nuts or shredded coconut.
Get the kids involved by letting them help with the coating and decorating step. They'll have so much fun making their unique candy apples!
Witches brew
Witches are known for their love of potions and brews, so it's no surprise they would have some delicious recipes up their sleeves! Here are a few spooky cocktails that are perfect for any Halloween party:
The first recipe is for a Witch's Brew Punch. This punch is made with orange juice, lemonade, cranberry juice, and vodka. It's perfect for a Halloween party because it's both spooky and refreshing!
For something a little more potent, try the Witches' Brew Martini. This martini is made with gin, dry vermouth, and crème de menthe. It's garnished with a green olive, which makes it perfect for a Halloween-themed cocktail party!
If you're looking for something non-alcoholic, try the Witch's Brew Smoothie. This smoothie is made with orange juice, banana, yogurt, and ice. It's perfect for kids or adults who don't want to drink alcohol at the Halloween party!
Brain hemorrhage shot
Ingredients:
1oz vodka
1/2oz peach schnapps
1/2oz grenadine syrup
3 drops of tabasco sauce
Cooking instructions:
Pour the peach schnapps, vodka, and grenadine into a shaker filled with ice. Shake well and strain into a shot glass. Add three drops of Tabasco sauce to the center of the drink.
Beetlejuice
If you're looking for a Halloween cocktail that's both spooky and delicious, look no further than Beetlejuice. This frightfully good drink is made with vodka, blackberry liqueur, and lemon juice and is garnished with blackberries and a gummy worm. It's the perfect drink to serve at your Halloween party!
Hocus pocus
This Halloween, try your hand at making some spooky cocktails! We have a few recipes to try out, including a "Hocus Pocus" cocktail that will get you in the Halloween spirit.
Ingredients:
-1 ounce vodka
-1/2 ounce dry vermouth
-1/2 ounce triple sec
-1 teaspoon grenadine syrup
-1 dash of orange bitters
-Orange peel, for garnish
Cooking instructions:
1. Fill a shaker with ice cubes. Add vodka, vermouth, triple sec, grenadine, and orange bitters. Shake well and strain into a chilled martini glass.
2. Garnish with an orange peel and serve immediately.
Black magic margarita
Ingredients:
-1 1/2 ounces tequila
-1 ounce Triple sec or other orange liqueur
-1/2 ounce lime juice
-1/4 teaspoon black food coloring
-Ice cubes
-Salt for rimming the glass (optional)
-Lime wedge for garnish (optional)
Cooking instructions:
1. Combine the tequila, Triple sec, lime juice, and black food coloring in a cocktail shaker filled with ice cubes. Shake well.
2. Wet the rim of a margarita glass with water and dip it in salt, if desired.
3. Strain the margarita into the prepared glass and Garnish with a lime wedge, if desired.
About Author