5 Budget Friendly ACs under 25,000 to Keep You Cool in Summer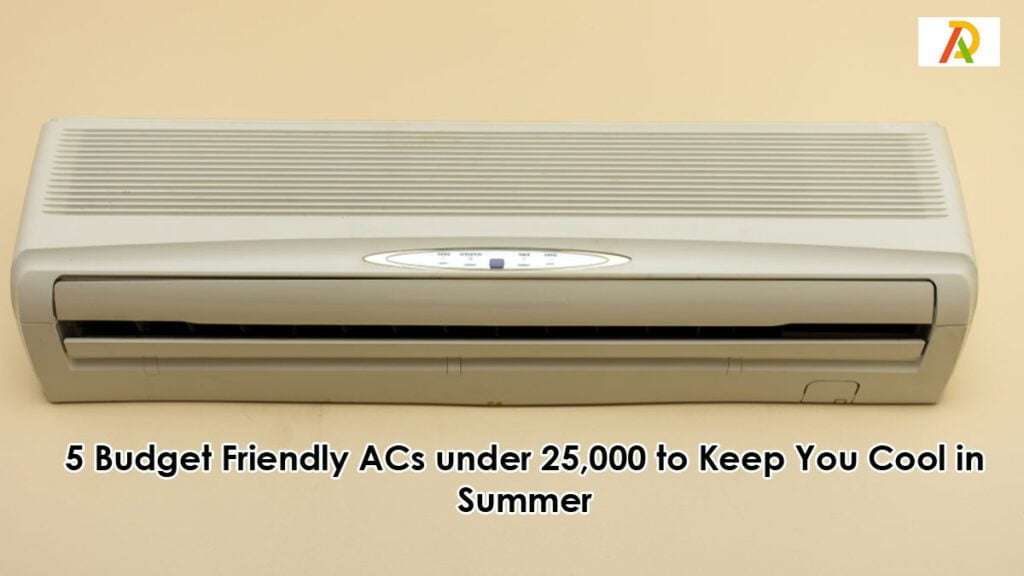 We need the proper AC to keep us comfortable in every weather condition and has all the best features to fit our style while summer is in full swing and monsoon is on the way along with humid days. For your convenience, we have put together a list of highly rated and client-recommended appliances.
These window and split variants provide a 1-year product and 5-year compressor guarantee and available in various tonnages to suit the requirements of your space. These items will thus be a good choice whether you want to replace your outdated AC or buy one for that extra room. View the ranking of the top air conditioners under Rs 25,000 below to guide your buy.
Can You Actually Get an Air Conditioner for Such a Low Cost?
You've come to the perfect place if your budget for replacing your outdated air conditioner is Rs 25,000. Below, you can find a list of some of the top air conditioners under Rs 25,000. Browse our choices and select the one that best fits you.
There has never been a greater need for an air conditioner than now, with summers affecting practically every region of the nation. Before making an air conditioner purchase decision, everyone wants to be well-informed and wants to get the best AC available in India. However, if you have set a budget of Rs 25,000, do not worry; we have a guide for you.
List of the Top Air Conditioners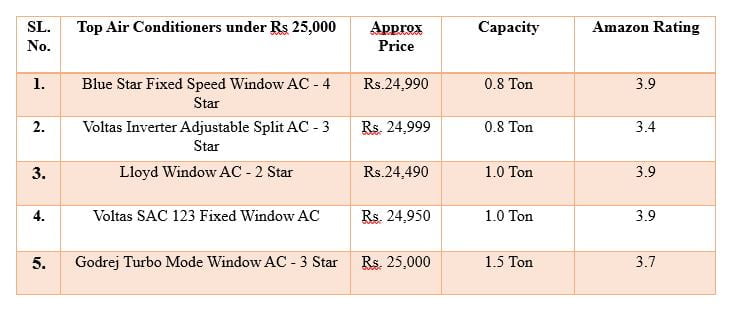 1. Blue Star Fixed Speed Window AC – 4 Star
This window air conditioner is a fantastic option for tiny areas thanks to the dependability and practicality of the Blue Star brand. A built-in compressor is included with this 0.8 tonne window air conditioner to improve cooling performance while using less energy, improving efficiency, and lowering expenses. This portable air conditioner employs the most recent refrigerant, R410A, which is wax-free and has zero ozone depleting substances.
It also uses polyester (POE) oil, which has improved oil return capabilities and heat transfer characteristics. It has four different fan speeds (Low/Medium/High/Auto) that allow you to change the fan speed. The air conditioner is user-friendly and handy since it remembers the last setting the user made after a power outage and instantly continues operation in that pre-set mode.
Buy:
2. Voltas Inverter Adjustable Split AC – 3 Star
The Voltas 0.8 Tonne 3 Star Adjustable Inverter Split AC will suit you well if you need an AC for a small space. Due to its exceptional cooling ability, this AC offers cold air even at a temperature of 50 degrees Celsius. The 0.8 tonne AC's compressor operates at a quicker rate to ensure greater cooling while producing less noise. The device is designed to operate well while using less power, making it a cost-effective option. The AC has a digital display that is cleverly built into its compact body and can be turned off for a quiet experience.
Buy: <
3. Lloyd Window AC – Fixed Speed 2 Star
The Lloyd 1.0 Tonne 2 Star Fixed Speed Window AC has a 2 star energy efficiency certification and is a cost-effective all-weather air conditioner with a high ambient cooling, active dehumidifier, and multi stage filtration benefit. An active dehumidifier that recognises and regulates interior humidity during monsoons is included with the air conditioner. By reducing excessive cooling and energy use, it aids in maintaining a pleasant temperature, allowing you to rest peacefully all night. The appliance contains Blue Fins Coils, which provide higher cooling performance, need little maintenance, and increase product lifetime.
Buy:
4. Voltas SAC 123 Fixed Window AC
With features like Auto Swing and an Anti-Dust Filter, the Voltas SAC 123 Vectra Platina Fixed Window AC 1 Tonne provides ambient cooling and comfort in all weather conditions. It is 3 Star BEE rated and energy-efficient, guaranteeing considerable power savings. To safeguard the system, the device will immediately turn off in the event of any part failure. When you turn on the AC's sleep mode feature, it will maintain an ideal temperature and operate quietly all night long so you may sleep peacefully.
Buy:
5. Godrej Turbo Mode Window AC – 3 Star
The 1.5 Tonne 3 Star, Turbo Mode, Window AC from Godrej is the colossus of cooling devices. The AC's cooling ability and clean, fresh air will make your living space comfortable for you. The window air conditioner has a number of operating modes that make sure you always get the best performance and that extra energy isn't squandered. The compressor guarantees optimal cooling without using unnecessary energy, making the process highly user-friendly.
Buy:
Conclusion
While every item on this list is extremely dependable and worthwhile of consideration, the choice you choose for your house should be based on your own requirements. Comparing all of these items is not particularly difficult because each one's description is both thorough and succinct.
About Author