How to Edit Text in PDF Editor
The portable document format (PDF) is the standard document file type that was introduced by Adobe Labs to securely share text files that are not in editable format. It was designed to roll out information that can't be edited by any regular user. Later on, when the need for editing was raised, PDF Editors were introduced. A PDF viewer can't edit any PDF document. We need to use the Best PDF editor for PC to edit PDF files, add images, text, and do a lot more. Read on to learn how to edit the text in PDF.
What is a PDF Editor
A PDF editor is an online or offline tool that can be useful in formatting text in PDF format files. You can add/edit texts, tweak images, delete pages, and many more with a PDF editor. You can also combine, split, and compress portable document files using a quality editor tool.
Online PDF Editor vs Offline PDF Editor
You can use both online and offline tools for working with your PDF files. Both tools have comprehensive features that can help you work with your PDF files.
Online PDF Editor
Online Portable document format file editor is available with comprehensive abilities to tweak a PDF. An online editor is preferable if you want to edit a smaller number of files.
You can use it free of cost.
No downloads or installation is required for an online editor.
Access and work from anywhere at any time while using an online editor.
Online tools obviously will need good internet connectivity.
Offline PDF Editor
If you need editing more PDF files, then an offline PDF editor will be the go-to choice. The best PDF editor to change text will offer extensive ability and performance ability that can benefit you in formatting text in PDF.
An offline editor will not require a data connection.
The tool is more efficient and has more attributes than an online tool.
Offline PDF editor is best suitable for handling bulk and intricate editing tasks.
How to Choose the Best PDF Editor
The tool or utility that you choose for editing your PDF files should have comprehensive feature sets that can help accomplish the task. Check the factors to check for choosing the best PDF editor to change the text.
Security
PDF files may contain confidential information that you don't want to share with anyone. The editor tool you choose should have strong security protocols to safeguard your info.
Compatibility
Nowadays we are using multiple types of devices to access and work with a document. The PDF editors you choose should be compatible with multiple types of devices. Prominently, it should be suitable for mobile devices.
Support
Editing a PDF file will require some technical insights and so is using an editor utility. Your portable document format file editor should offer effective technical support around the clock. It can help you clarify any doubts.
Functionality
The editor requirement of each one of us may differ. You should keep your requirement in mind before choosing a PDF editor tool. Remember different PDF editors will have distinct capabilities. Choosing the suitable one can help you edit your PDF with ease.
Customization
As we know our requirements for PDF editing will differ from one another. The software you choose for tweaking your files should be customizable and scalable according to your needs.
Conversation
After editing PDF files, you may have to download or have the file to make the changes effective. The file editor you choose should have the capability of saving the document in different file formats. This ability can help you in taking the output from your editor tool in the required format.
Systweak PDF Editor
Now that you know everything about selecting the best PDF editor to change text, let us dive into a superior utility that can help tweak your PDF files.
Systweak PDF Editor is the best PDF editor for Windows that can help you tweak your Portable document format file as per your requirements. The tool can edit, combine, split, and compress your PDF files with simple steps. The superior converting ability of the tool will let you save the file in the preferred output format.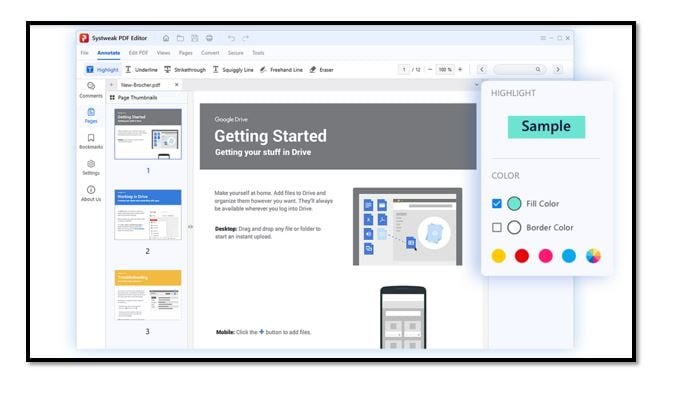 Features
Superior editing and annotation ability
Can convert files to any document format
Capable of converting files in batch
Variety of file viewing modes
Pros
Can organize PDF pages
Available as a free and pro version
Capable of securing your PDF with a digital signature
Powerful PDF editing options
Cons
Compatible with only the Windows operating system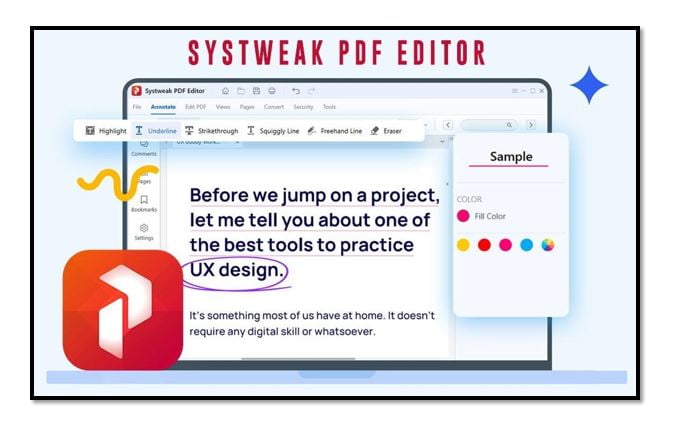 How to Edit Text Using Systweak PDF Editor
As we know the beneficial attributes of the best PDF editor for Windows, Systweak PDF editor lets us check out how we can use it.
Step 1: Download and install the PDF editor from the official website.
Step 2: Launch the utility from the desktop icon or program files.
Step 3: Utilize the file editing features to tweak your file.
Step 4: Save the changes you have done to make it effective.
Summing Up
PDF editors are essential tools for all. Choosing the quality utility will let you work with your portable files with ease. To help you out in this task we have briefed you about the factors for choosing the best PDF editor and the advantageous attributes of Systweak PDF editor. We believe this brief can help you in making a decision. Feel free to contact us for any assistance in this concern.
About Author