My Startup Dream: A-Z Guide for Planning Your Launch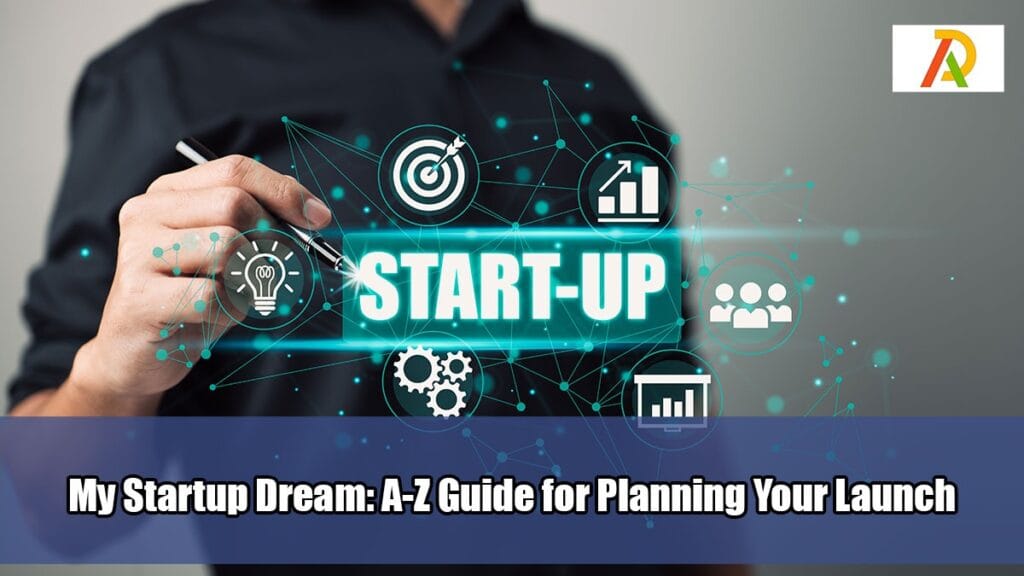 Hey there, curious minds!!! Have you ever wished to explore the mysterious domain of business, where ideas blossom, dreams come true, and the potential of entrepreneurship blooms? Do you ever imagine earning money from 'My Startup Dream' project? Knowing the ins and outs of starting a company is essential, regardless of how much experience with commerce. It is typically a concept that enters every aspect of our lives and encompasses an amazing range of variety and energy. Let's examine the aspects in detail and remove the world's illusions.
My Startup Dream: Decoding Business DNA
Think of a business as a living entity that evolves, breathes, and grows. Let's study its basic DNA to understand its core:
Vision & Mission: The core concept is a vision that directs the organization's course. The mission statement summarizes the organization's goals and the reason it exists. Knowing these determines the course of each action.
Adaptability: A trade must change in response to its surroundings, like a living thing. It must be flexible enough to evolve with time and adapt to new technology, consumer tastes, and market dynamics.
Values and culture: A company's values also shape its DNA. Its moral compass or ethical code guides its actions. It defines the corporate culture, influencing how individuals behave and communicate.
Innovation and evolution: Businesses need innovation to grow, just like living things do. Its longevity in an evolving market relies on its capacity to adapt, develop new concepts, and improve procedures.
Customer-Centric Approach: Customers are who keep businesses alive. A profitable company relies on recognizing customers' desires and needs while providing value.
Strategic planning: It is essential to a corporation, much as genetic coding is to an organism's growth. To accomplish goals, strategies must be established, goals must be specified, and actions must be coordinated.
Comprehending a business's DNA essentially entails identifying its fundamental elements, fostering its expansion, and guaranteeing its capacity to change. Seeing the company as a living organism and accepting its essence helps one to understand its intricacy and life in today's ever-changing landscape.
My Startup Dream: Exploring Varied Business Types
There are mainly two types of businesses, which are again diversified by structure and size. 
By Structure:
Sole Proprietorship: A single individual serves as the founder and director of this kind of company. There is no formal division between the proprietor and the business. As a result, all legal and tax liabilities belong to the owner.
Partnership: This is one of a kind where the trading is run collaboratively by two or more people. The partners provide the resources and funds and divide any gains or losses amongst themselves.
Corporation: In this type of company, several people work together as a single unit. Investors are the people who hold common stock in a firm in exchange for money.
Limited Liability Company (LLC): It combines the features of a corporation with those of a partnership or a single proprietorship. It has restricted accountability for its shareholders, much like a corporation does. If the LLC can't pay its bills, the member's private belongings are protected from liabilities. Like a proprietorship or partnership, an LLC is quite easy to form and manage.
By Size:
Small Businesses: Companies that manufacture goods and services on a modest scale are called small enterprises or small-scale industries. The owners have complete control over all managerial tasks, typically labor-intensive. The reach is generally restricted to a single region, such as a local restaurant, retail store, or industry.
Mid-size Businesses: Midsized businesses are precisely that—midsized. Smaller than the larger groups, but not extremely small. A company must achieve certain revenues or overall yearly income standards, along with a certain number of workers, to qualify as a midsize firm.
Large-scale Businesses: This type of firm has significant advantages in terms of scale due to its size. They employ a sizeable number of people and make a huge quantity of money. They might go after domestic or even global markets.
Business Industries: There are numerous industries in which firms can exist. A corporation may use the name of the particular industry to describe its business. Some examples of such industries are the real estate, marketing, and mattress manufacturing sectors.
Stories of Business Titans:
Let's dive into the stories of some legends of commerce that have left an indelible mark on the world.
Apple redefined innovation:
Undoubtedly, Apple has significantly impacted the tech industry. We now communicate, conduct business, and entertain ourselves completely differently thanks to Apple's inventive devices, which include the iPad, Apple Watch, MacBook, and iPhone. Their technological innovation redefined industries, setting new standards and shaping our modern lives. A new benchmark for other digital companies to meet has been established by the company's commitment to user interface and design.
Below are some significant figures about Apple's revenue:
2022 Revenue: $365.8 billion
iPhone Revenue: $226.4 billion (61% of total revenue)
Services Revenue: $78.1 billion (21% of total revenue)
Active iPhones: Over 1.2 billion worldwide
Amazon: E-commerce Pioneer and Beyond
The transformation of Amazon from a small online bookshop to a massive online retailer is genuinely amazing. The company has risen to the pinnacle of the retail sector thanks to its unrelenting ambition and dedication to client satisfaction. With its cloud computing system, Amazon Web Services (AWS), emerging as a global business backbone, Amazon's influence goes beyond e-commerce.
These startling figures about Amazon's revenue are as follows:
2022 Revenue: $469.8 billion
Net Online Sales: $386.1 billion (82% of total revenue)
Amazon Web Services (AWS) Revenue: $81.6 billion (17% of total revenue)
Prime Members: Over 200 million worldwide
Coca-Cola: A Global Icon
For over a century, people have cherished Coca-Cola as more than just a beverage. It is a cultural symbol. Its sustained success has been made possible by its flexibility in responding to evolving customer needs and interests. Coca-Cola is unrivaled in terms of worldwide influence and popularity.
Here are some surprising revenue figures for Coca-Cola:
2022 Revenue: $48.2 billion
Global Volume: 2.5 billion cases sold annually
International Sales: 55% of total revenue
Brand Value: Estimated at $234 billion
What sets these giants apart?
Adaptability and Resilience: To remain essential, they have welcomed innovation, survived storms, and adjusted to shifting environments.
Impact on society: These massive corporations have significantly influenced society beyond their economic prosperity. They have modified consumer behavior, transformed technology, and even changed our way of life in certain circumstances.
Vision and leadership: It has been essential to have a firm vision and solid leadership. These successful businesses had a significant worldwide influence because their founders and leaders dared to dream large.
These legends' narratives are inspirational since they highlight how everyone can influence the future if they are creative, adaptable, and resourceful. Their experiences serve as a tribute to the grandeur that can be attained with dedication, a touch of creativity, and an abundance of hard work.
How can to launch my startup dream?
Establishing an entirely novel company can be challenging but can be simplified by breaking the task into manageable phases. You can use the tried and tested techniques of business owners who have achieved success rather than circling in circles and thinking about where to begin. Follow these 10-step checklists to turn a start-up dream from a bright idea into a functioning firm if you want to learn how to establish your own.
To determine the commercial potential of your business concept, perform a market analysis.
Make an in-depth plan outlining your objectives, action plans, and expected financials.
Raise funding to pay for the start-up and operating costs of your company.
Choose a location strategically aligned with its activities and target market.
Select an appropriate company framework to identify your tax and legal responsibilities.
In order to prove legitimate ownership and safeguard your trademark, register the company name.
To stick to tax laws, get both your state and federal tax identification numbers.
Get all the permits and licenses you need to operate businesses lawfully in your area.
Create a specific company bank account to efficiently handle your finances.
How can you launch your online business?
Launching online businesses is not entirely different from starting a traditional one. Before anything else:
Examine the scalability of your project before launching it.
Create a thorough company strategy to direct your path.
Select a catchy business name that defines your identity. Even if you could spend a lot of money for a naming agency to develop a fresh, modern, industry-specific, untrademarked name, you would be better off spending your resources at the beginning of your company. Instead, use your own imagination to come up with a meaningful name.
Choose the business form that best suits your needs.
Take care of the legal environment to conduct businesses legally in your area.
Establish a powerful online presence to engage with your intended audience.
Utilize pre-launch publicity to build curiosity and buzz.
Launch your company with a splash through a big opening and well-thought-out marketing initiatives.
How to get a business loan for your start-up?
Startup idea requires funding, and business loans are a good choice for many would-be entrepreneurs. Even though the procedure could seem stressful, knowing the different kinds of loans and contacting lenders in a calculated manner will improve your chances of getting the money you require.
Research your alternatives: Analyze different options for business loans, such as lines of credit, crowdsourcing, conventional bank loans, and Small Business Administration. Before applying, it's important to know your options as each form of loan has different requirements for qualifying, interest rates, and terms of payback.
Design a Detailed Plan: With its comprehensive description of your idea, target market, revenue estimates, and administrative tactics, a strong plan acts as a route map for your start-up. Lenders can learn more about your company's viability and prospects for success from this comprehensive plan.
Establish a Solid Credit History: Your credit history—personal and business—greatly influences your loan application. Lenders will find you more appealing if you have a positive credit score demonstrating your capacity for repaying loans.
Prepare Financial Records: Paperwork such as tax returns, bank records, and financial statements for the company will be needed by lenders to evaluate your economic health. To support your request, verify that you have backups of these records.
Find Prospective Lenders: Find lenders that offer loans that meet the requirements and area of your company by doing some research. Consider variables including interest rates, loan amounts, periods of repayment, as well as application procedures.
Construct a Strong Loan Application: Scrutinize each lender's requirements, and ensure the information you submit is accurate and comprehensive. To show off your spirit of entrepreneurship and potential for funding, highlight the advantages of your company, as well as its growth prospects and potential customers.
Achieve beneficial conditions: Get the best term possible by negotiating smartly with lenders. Talk about extra expenses or requirements, interest rates, and repayment plans.
Continue Communicating Frequently: Notify lenders of any changes to your company or economic conditions that might have an impact on the terms of your loan. Maintaining frequent communication with the lender will help you build credibility and confidence.
The Ending Note:
Business is the lifeblood of an economy, fueling progress and prosperity. From tiny local shops to multinational corporations, they serve both individuals and various businesses with their wide range of products and services. Whether it's a major enterprise or sole proprietorship, play a significant role in determining how the economy is shaped. Starting a My Startup Dream business involves in-depth study and a well-crafted plan to get funds and ensure effective operations.
About Author