Should I Refinance My Student Loans?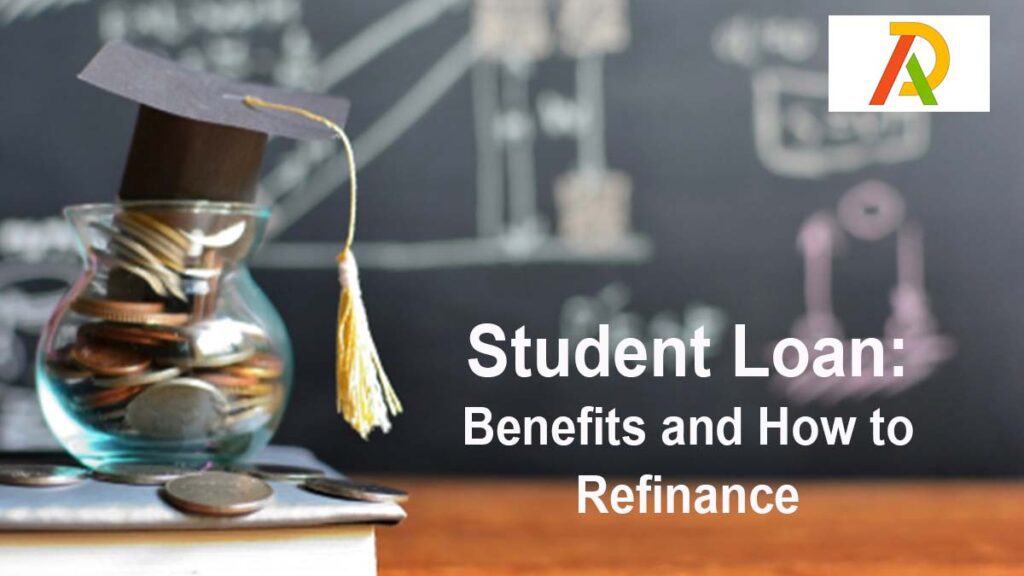 There's a common question that comes to the mind of most students: "Should I Refinance My Student Loans?" Student loan refinancing is when a student applies for a new loan to clear the existing loan and lower the interest rate accordingly. Student loan refinancing gives the students some extended time to pay off their debt. Everyone cannot fit the criteria to refinance student loans; the criteria are to have a high credit score, a steady income, and a permanent job.
If you are wondering, "Should I Refinance My Student Loans?"; you need to keep in mind that Student loan refinancing takes away some load from the present loan. The student loan refinancing program benefits students who have to repay existing loans and are pursuing their educational degrees abroad. For example, if you have a $ 35000 private loan and around a 12% interest rate, the term left is ten years. Then you have to pay $ 502 monthly, and your repayment amount will be $ 60,258 altogether, and interest is applied. But by refinancing at a 7% interest rate and a ten-year repayment term, the monthly payment will be roughly $ 406, and the total amount you will repay is around $ 48,766, which means you're saving $ 11,000 overall.
Student loan refinances rates:
Student loan refinancing saves the borrowers cash and recovers the already existing loan with a new plan, a new loan with different terms and conditions. The criteria that one needs to fulfill are:
The credit score should be above 600 and even more if possible.
The monthly income should be steady and sufficient, and the job must be permanent.
If a student does not fulfill the above two conditions, then he or she may get a co-signer who can fulfill them.
Should I Refinance My Student Loans?
Before opting for student loan refinance, a student must know the rates and compare them if possible. Some of the student loans refinance rates are stated below:
Lender – PENFED Credit Union, terms are 5, 8,12, or 15 years, the fixed APR range is between 2.99%-5.15%, and the variable APR range is between 2.16%- 4.46%
Lender- Earnest, terms are to 20 years, the fixed APR range is between 2.98%- 5.79% and the variable APR range is 1.99% – 5.64%, Minimum credit score is 650.
Lender- SoFi, terms are 5,7,10,15 or 20 years, fixed APR range is between 2.99% – 6.94% and variable APR range is 2.25%- 6.49%.
Lender- LendKey, terms are 5,7,10,15, or 20 years, fixed APR range is between 4.24%-7.98%, variable APR range is 1.9%-5.25%.
Lender- EDUCATION loan finance, the terms are 5,7,10,15 or 20 years, fixed APR range is 2.79%- 5.99% and variable APR is 2.39%- 6.01%, a minimum credit score is 680.
Lender- Commonbond, terms are 5,7,10,15, or 20 years, fixed APR range is 2.98% – 5.79%, and the variable APR range is 1.99%- 5.61%,680 is the minimum credit score required.
EDvestinU has a fixed APR rate between 4.59%- 9.11%.
RISLA has been the best student loan refinance company overall because of its competitive rates and considerable benefits. The borrower can refinance between $ 7500 and $ 2,50,000; terms are 5,10, and 15 years; the fixed rates are between 3.19% and 5.59%.
To refinance private student loans:
One should refinance private student loans if they get certified for better interest rates. The refinance lender doesn't charge anything in advance. Therefore a lower rate will allow you to pay a lesser amount, side by side saving on interests.
There are some great benefits of refinancing private students loans; they are:
It saves money- one of the main reasons to refinance private student loans is that it saves money. It lowers the interest rate and therefore brings down the monthly payment rate.
It exchanges repayment terms- refinance private student loans are ideal for anyone who wants to alter how they pay their loans
Simplify repayment- Those who are thinking, "Should I Refinance My Student Loans?"; students with more than one private student loan; can combine them into one refinanced loan with one single clearance.
Stretching out repayment to decrease the monthly payments and lowering the interest rates can also minimize the monthly payments by increasing the final term period.
You can choose a different lender – the customer service of all companies may not be appropriate; if you face such trouble, you can easily shift to a different lender. A different lender may have better benefits that you can enjoy.
But there is a little drawback to refinancing private student loans. Benefits like postponing payments may not always be accessible as lenders let you choose shorter repayment plans.
How to refinance student loans?
The question might strike somebody how to refinance student loans? The following steps might be helpful for you.
Step 1. The primary and chief step is to check and contrast rates among multiple lenders. To be able to easily refinance student loans, one has to do a little bit of research when it comes to student loan refinancing; the options are huge, as many banks and lenders are present who refinance student loans, for example; SoFi, Earnest, LendKey, CommonBond and many more.
Step 2. In this step, you must choose a lender and the loan terms. Usually, people choose lenders who can provide lesser interest rates.
Step 3. In this step, you prepare the documents and fill out the application. Important documents such as loan statements and income proof must be uploaded.
Step 4. You must keep paying the loan while waiting for the final approval. The process of full approval takes longer to complete; in such a situation, keep paying the current loan and stop only when you get the final confirmation.
Should I refinance my student loan?
Student loan refinancing can be highly beneficial for anyone as it helps save money and postpone repayment. If you can fulfill the criteria, such as a high credit score above 600 and a stable monthly income, then yes! You should go for student loan refinancing.
Benefits of Citizens bank refinance students loan:
They are very considerable and borrower-friendly because of the lower interest rates.
You can reduce the monthly payment according to your term 5,7,10,15, or 20 years; it is very flexible.
It is very convenient as it allows you to combine federal and private loans into a single loan, thus saving time.
CONCLUSION
Student loan refinancing helps make the monthly payments more flexible, allows time to repay the debt, and reduces the interest rates altogether. You need to remember before thinking, "Should I Refinance My Student Loans?"; student loan refinances are a way that makes the payments achievable and extends the term period, thus reducing the pressure on the borrower. However, suppose you're near the end of your term or almost the finish line. In that case, Student loan refinancing may not be very beneficial as it will postpone the repayment period, placing more burden on your shoulder.
About Author