Spearheading Digital Presence: 10 Best Website Builders for Small Businesses in 2023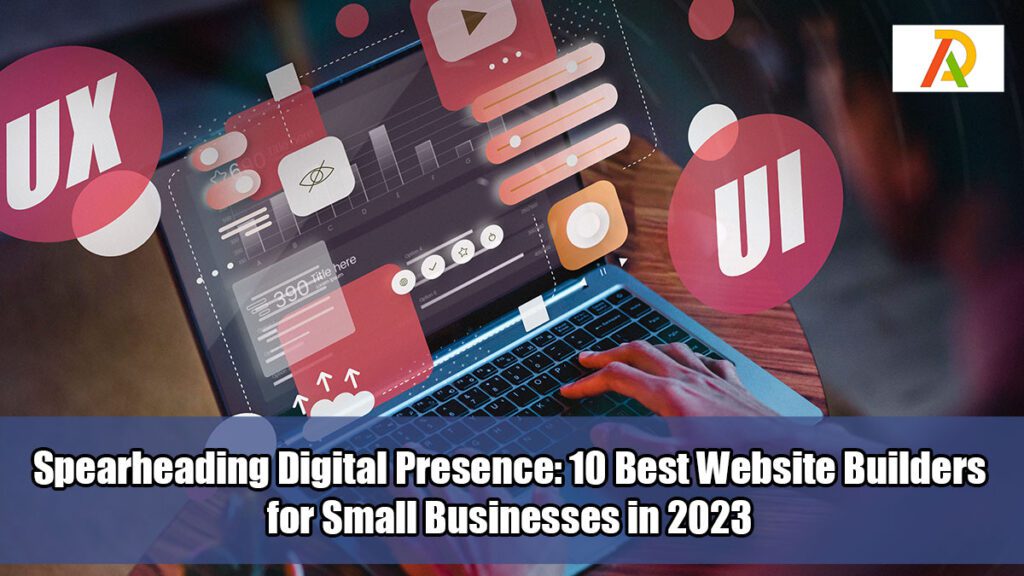 In the contemporary digital landscape, an engaging, functional website is an indispensable asset for small businesses. It offers a platform to showcase products or services, share company stories, and connect with customers. Choosing the best website builder is crucial to creating a robust online presence without extensive coding knowledge. This article outlines the ten best website builders for small businesses in 2023, designed to make the process of website creation more manageable and effective.
Top 10 Best Website Builders for Small Businesses
1. Wix
With its intuitive drag-and-drop editor, extensive template library, and advanced features such as booking forms and e-commerce capabilities, Wix tops the list of best website builders. Its flexible design and SEO tools make it ideal for small businesses looking to grow their online presence.
2. Squarespace
Squarespace is renowned for its sleek, professional templates that are perfect for businesses prioritizing aesthetics. Its integrated tools for e-commerce, blogging, and donation collection, along with robust SEO features, make it a holistic platform for website building.
3. Weebly
Weebly's user-friendly interface, combined with its vast array of customizable templates and robust e-commerce features, make it an excellent choice for small businesses. Its built-in SEO tools and site statistics aid in tracking performance and improving visibility.
4. Shopify
For businesses focusing on e-commerce, Shopify is the best website builder. It offers comprehensive e-commerce tools, from inventory management to secure payments and shipping options. Its ease of use makes online store creation a breeze.
5. WordPress.com
Ideal for content-heavy sites or blogs, WordPress.com offers extensive customization options and thousands of plugins for added functionality. Its strong SEO and marketing tools are excellent for increasing site visibility.
6. Zyro
Zyro stands out with its AI-driven tools, including a business name generator, logo maker, and heatmap. Its intuitive editor, e-commerce capabilities, and attractive templates make it an appealing choice for small businesses.
7. GoDaddy
GoDaddy's Website Builder shines with its simplicity and speed. It offers industry-specific template designs, built-in marketing tools, and useful features like online appointment scheduling, making it a versatile tool for small businesses.
8. Duda
Duda's collaborative features make it ideal for teams. It offers attractive templates, personalization rules, and powerful site analytics. Its e-commerce capabilities are relatively new but growing steadily.
9. Jimdo
Jimdo is a beginner-friendly builder offering AI-driven website creation. Its simplicity and features, like SEO tools and multilingual sites, make it an excellent choice for businesses venturing into website creation for the first time.
10. BigCommerce
BigCommerce is a powerful builder designed for e-commerce businesses looking to scale. Its comprehensive built-in features, including a range of payment gateways, multi-channel integration, and advanced marketing tools, make it a strong contender in the website builder market.
Choosing the Best Website Builder for Your Small Business
While this list narrows down the options, the ultimate choice depends on your specific needs. When choosing the best website builder, consider your level of technical expertise, your design preferences, the nature of your business, and the specific features you require. Your website is an extension of your business. Therefore, the builder you choose should be able to capture your brand effectively and cater to your business goals.
Conclusion: Building a Strong Online Presence with the Best Website Builder
The journey to carving out a formidable digital footprint begins with selecting the best website builder that aligns with your business's unique needs and goals. This vital tool should offer the right balance between ease of use, flexibility, and comprehensive features, making website creation less daunting and more efficient.
From e-commerce-centric platforms like Shopify and BigCommerce to visually-focused builders like Squarespace, or those offering complete customization such as Wix, there are numerous options at your disposal.
Choosing the best website builder is the first step in unlocking your small business's potential, providing you with a platform to connect with customers, showcase your products or services, and ultimately, drive business growth. In a digital era where online presence is paramount, a dynamic, engaging, and user-friendly website isn't just an option—it's a necessity.
About Author