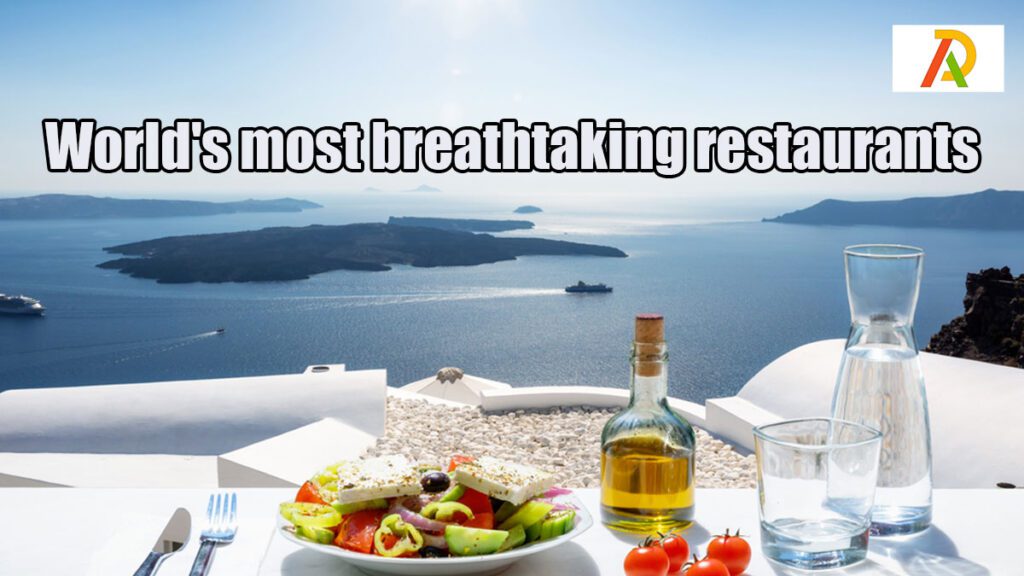 Looking for a breathtaking dining experience? Check out our list of the world's most stunning restaurants, from an underwater eatery in Fiji to a cliffside restaurant in Peru. Whether searching for a romantic dinner spot or somewhere to impress business clients, these restaurants will make a lasting impression.
El Bulli, Spain
Suppose you're looking for breathtaking views while dining; look no further than El Bulli in Spain. This world-renowned restaurant is situated atop a cliff overlooking the Mediterranean Sea. The menu features modern Catalan cuisine, and the Michelin-starred chef Ferran Adria is known for his inventive dishes. While dining at El Bulli, you'll be treated to stunning views of the sea and some of the most creative and delicious food you'll ever taste.
The Fat Duck, England
The Fat Duck is one of England's most popular and well-known restaurants. Located in the town of Bray, just outside of London, The Fat Duck has been serving up some of the best food in the country for over 15 years.
Head chef Heston Blumenthal is known for his unique and often quirky dishes, which have earned The Fat Duck a Michelin star and a place on many lists of the world's best restaurants. If you're looking for an unforgettable dining experience, The Fat Duck is worth a visit.
Noma, Denmark
Noma is often hailed as the best restaurant in the world, and it's easy to see why. Located in Copenhagen, Denmark, Noma has stunning cityscape views, and its Michelin-starred cuisine is simply unbeatable. But what makes Noma stand out is its incredible commitment to sustainability. The restaurant sources ingredients from local farmers and purveyors and has an on-site garden where herbs and vegetables are grown. If you're looking for an unforgettable dining experience that's also good for the planet, Noma is the place to go.
Per Se, New York City
In a city full of incredible dining experiences, Per Se stands out as one of the very best. Located in the Time Warner Center high above Columbus Circle, Per Se offers stunning views of Central Park and the Manhattan skyline. But it's not just the setting that makes this restaurant so special – the food is incredible.
Head chef Thomas Keller is a legend in the culinary world, and his dishes are truly works of art. The nine-course tasting menu changes frequently but might include delicacies like caviar with potato blini, lobster poached in Meyer lemon verbena broth, or Wagyu beef with black truffle risotto. No matter what you order, you're guaranteed an unforgettable meal.
Per Se is one of the most expensive restaurants in New York City, but it's worth every penny. This is the place to go if you're looking for a truly luxurious dining experience.
Alinea, Chicago
Few places in the world can rival the beauty of Alinea in Chicago. From the stunning setting to the impeccable service, this restaurant is truly a one-of-a-kind dining experience. The food is phenomenal, and the wine list is second to none. If you're looking for a truly breathtaking restaurant experience, Alinea is certainly worth a visit.
D.O.M., Brazil
D.O.M. is one of Brazil's most popular restaurants, and it's not hard to see why. The restaurant is located in an old manor house, and the dining room is decorated with beautiful antiques. The food is exquisite, and the service is impeccable. If you're looking for a truly breathtaking dining experience, D.O.M. is the place to go.
Osteria Francescana, Italy
If you're looking for breathtaking views to go along with your Michelin-starred meal, look no further than Osteria Francescana in Modena, Italy. The restaurant is perched atop a hill in the heart of the country's stunning wine country, and its floor-to-ceiling windows offer panoramic views of the rolling hills and vineyards below. Even better? The food lives up to the breathtaking setting, with creative dishes that have earned the restaurant three Michelin stars.
Arzak, Spain
If you're looking for breathtaking views to go along with your meal, look no further than Arzak in Spain. This restaurant is located on a cliff overlooking the Bay of Biscay, so you can enjoy stunning water views while you dine. The menu at Arzak is full of delicious Basque dishes, and you're sure to find something to your taste. Whether you're looking for an intimate dining experience or a night out with friends, Arzak is sure to make your visit memorable.
Astrance, France
Astrance is a Michelin-starred restaurant in Paris, France. The restaurant is run by chef Pascal Barbot and his wife, Christine. The menu at Astrance is ever-changing but always features seasonal French ingredients. Diners can expect dishes like roasted quail with foie gras and sea urchin risotto. Astrance has been rated as one of the world's best restaurants by publications like The New York Times, Condé Nast Traveler, and Gourmet magazine.
Benu, San Francisco
If you're in the mood for truly breathtaking food, then Benu in San Francisco is the place for you. Chef Corey Lee's modernist cuisine is nothing short of artistry and has earned the restaurant two Michelin stars. The ever-changing menu features inventive dishes like a smoked eel with pickled daikon and egg yolk jam, making Benu a must-visit for any serious foodie.
About Author