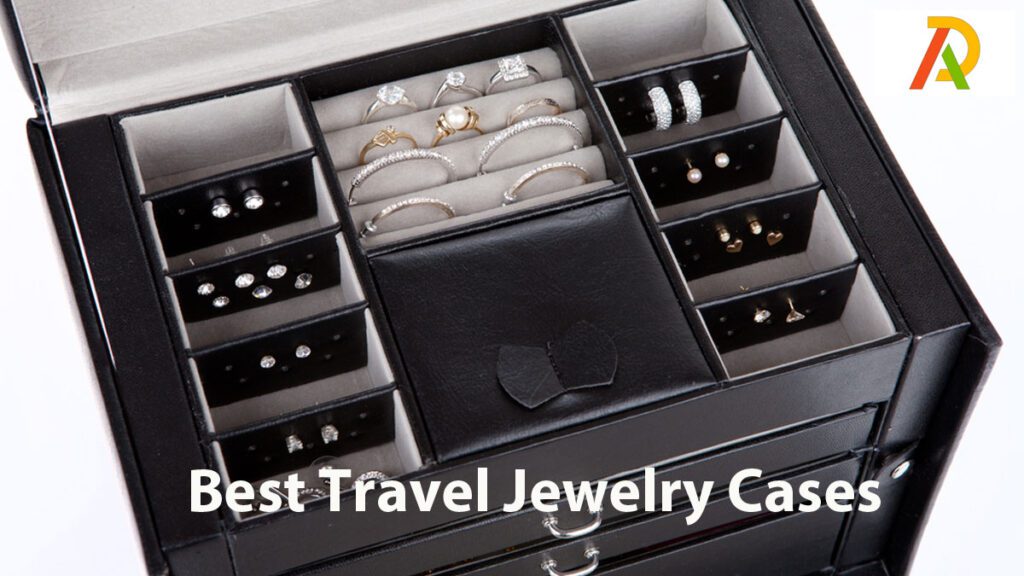 If you're a jet setter, you know that packing your jewelry for travel can be a daunting task. How do you keep your jewels organized and secure while en route? Check out our roundup of the best travel jewelry cases to keep your bling safe while you're on the go!
The Best Travel Jewelry Cases
There are a lot of different travel jewelry cases out there, but which one is the best? Here, we've rounded up the best travel jewelry cases for every traveler. Whether you're looking for something sleek and minimalist or something that's more fun and colorful, we've got you covered.
For the minimalist traveler: A sleek and minimalist travel jewelry case is probably for you if you like to travel light. We love this option from Travelambo, which has a clean and modern design. It's made from vegan leather and has a soft velvet lining, so your jewelry will be protected and won't get scratched. Plus, it has a snap closure to ensure your jewelry stays put.
For the fashion-savvy traveler: If you're all about fashion, you'll want a travel jewelry case that makes a statement. This one from Kate Spade is perfect; and it's bright and colorful, and it has a fun shape. Plus, it has multiple compartments, so you can organize your jewelry.
The Different Types of Travel Jewelry Cases
There are many travel jewelry cases to choose from, and it is important to select the right case for your needs. Here are some of the different types of cases:
1. Hard-sided Cases: These cases are great for protection and security. They are often made of metal or hard plastic; some have a combination lock to keep your jewelry safe.
2. Soft-sided Cases: These cases are lighter and can be easily stored in a suitcase or carry-on bag. They are not as secure as hard-sided cases, but they offer more flexibility in terms of storage and portability.
3. Jewelry Rolls: These are long, thin rolls that can hold several pieces of jewelry. They are often made of soft fabric and can be rolled up for easy storage.
4. Jewelry Boxes: These are classic jewelry storage options. They come in various sizes and styles, from simple wooden boxes to elaborate designs with multiple compartments.
5. Travel Jewelry Bags: These bags are designed to store and transport jewelry while traveling. They often have multiple pockets and compartments to keep everything organized and safe.
The Pros and Cons of Travel Jewelry Cases
When it comes to traveling with jewelry, there are a few different options for jewelry cases. Some people prefer to travel with their jewelry in a case, while others prefer to keep it in their luggage. Both options have pros and cons, so it's important to decide what's best for you.
If you're considering traveling with a jewelry case, there are a few things to remember. First, jewelry cases can be bulky and difficult to carry, require more packing time, and be difficult to keep organized. However, jewelry cases offer protection for your jewelry and help keep it organized while traveling.
If you're considering keeping your jewelry in your luggage, there are a few things to consider. First, it's important to ensure that your luggage is large enough to accommodate your jewelry. You'll also want to ensure your jewelry is well-protected while in transit. Keep in mind that lost or damaged luggage is always possible, so it's important to insure your jewelry if you plan to keep it in your luggage.
How to Choose the Right Travel Jewelry Case for You
When protecting your jewelry while traveling, there are a few options to choose from. A simple travel jewelry case or pouch may be all you need if you have a small collection. But if you have a larger collection, or if you want to be able to pack your jewelry and other travel essentials in one place, then a more comprehensive travel jewelry case is the way to go. Here are a few things to keep in mind as you shop for the perfect travel jewelry case for you:
Size: How much jewelry do you plan on taking with you on your trip? A small case or pouch will suffice if you only need to bring a few pieces. But if you have a larger collection, or if you want to be able to pack other items like makeup and toiletries along with your jewelry, then a bigger case is better.
Protection: Look for a travel jewelry case that offers multiple layers of protection for your precious pieces. A soft lining will help prevent scratching, while compartments and dividers can help keep things organized and prevent tangled necklaces.
Security: If you're worried about losing your jewelry while traveling, look for a case that offers extra security features, like alarm, etc.
Tips for Packing Your Travel Jewelry Case
Packing your travel jewelry case doesn't have to be a daunting task. Follow these tips, and you'll be sure to have all your favorite pieces with you when you hit the road.
1. Start selecting a case that will protect your jewelry from the elements and keep it organized. A hard-sided case with multiple compartments is ideal.
2. Sort your jewelry into categories so you can easily find what you're looking for when you're on the go. Common categories include necklaces, rings, bracelets, and earrings.
3. Use clear plastic bags or pouches to separate each jewelry category. This will help prevent tangles and damage.
4. Pack any special care items in your travel jewelry case, such as cleaning solutions or polishing cloths.
5. Label each compartment or bag to know exactly what's inside. This will save you time and frustration when trying to get ready in a hurry.
With these tips in mind, packing your travel jewelry case will be a breeze!
Conclusion
No matter where your travels take you, keeping your jewelry safe and sound is always important. With a good travel jewelry case, you can rest assured that your beautiful pieces will stay protected no matter what. We hope our list of the best travel jewelry cases has helped you find the perfect option for your needs. Safe travels!
About Author