Hawkins Bigboy Aluminium Inner Lid Pressure Cooker – Review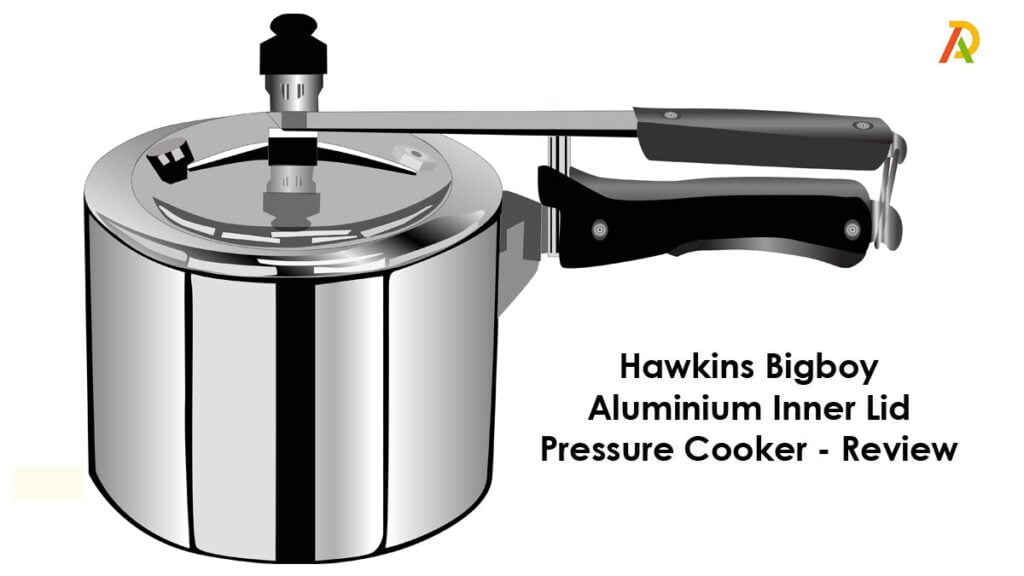 The Bigboy series is expertly designed to efficiently prepare substantial volumes of food, making it an invaluable asset in establishments like restaurants, hotels, and canteens in factories, hospitals, educational institutions, and various civil or military government facilities. These venues have been known to favor the reliable and robust Hawkins Bigboy.
Constructed with reinforced fiberglass, the plastic handles of all Bigboy pressure cookers guarantee added durability. Similarly, every component of the Bigboy pressure cookers is designed to withstand heavy-duty use. To ensure no parts go missing in bustling kitchen environments, a chain is thoughtfully connected to the vent weight.
Buy Now:
About the company
Established in 1959, Hawkins Cookers Limited has long been a significant player in India's pressure cooker industry. In addition to its domestic presence, the company has been an international contender since 1974, exporting its quality products to numerous countries spanning all six continents.
Capacity:
14 liters
Price:
This pressure cooker is priced at ₹3,668.00 inclusive of GST, but you can save ₹407.00 (9%) on it, bringing the price down to ₹3,275.00 excluding GST.
When buying two units of this pressure cooker, the price per unit drops further to ₹3,105.90 (or ₹3,478.61 including GST), offering a 14% discount.
About the product:
| | |
| --- | --- |
| Brand | Hawkins |
| Capacity | 14 litres |
| Material | Aluminium |
| Closure Type | Inner Lid |
| Colour | Silver |
| Finish Type | Aluminium |
| Product Dimensions | 45.7D x 25.5W x 37.2H Centimeters |
| Special Feature | Gas Stovetop Compatible |
| Wattage | 1000 Watts |
| Voltage | 230 Volts |
Some special features 
Its compatibility with gas stovetops has a wattage of 1000 Watts and a voltage of 230 Volts. It's ideal for 14 to 18 persons, making it a good choice for hotels, restaurants, large families, or caterers. The base is between 4.06 and 4.88 mm thick, and it features extra-strong, reinforced fiberglass handles for durability. The inside-fitting safety lid ensures that the cooker will not open until the pressure falls, providing a safety feature. A chain secures the pressure regulator to the lid to prevent loss.
The prices for larger capacity models of this cooker are also provided:
Manufacturer
HAWKINS COOKERS LIMITED, HAWKINS COOKERS LIMITED, NEW UDYOG MANDIR II, PITAMBER LANE, MAHIM, MUMBAI 400 016. TEL: +91-22-2444 0807
Generic Name
Aluminium Pressure Cooker
Technical Details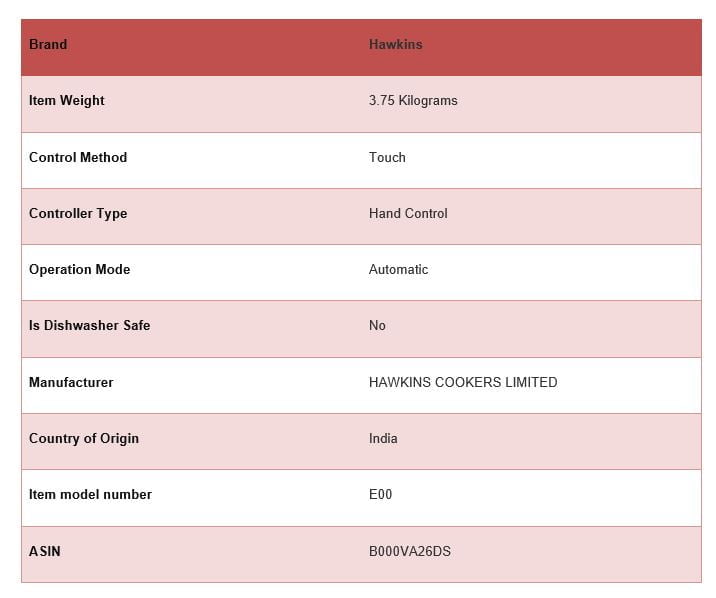 If you're considering buying this cooker, please remember to confirm the current prices, as they might have changed since our last update.
About Author