Semi Formal Attire for Men: The Best Brands for All-Black Ensemble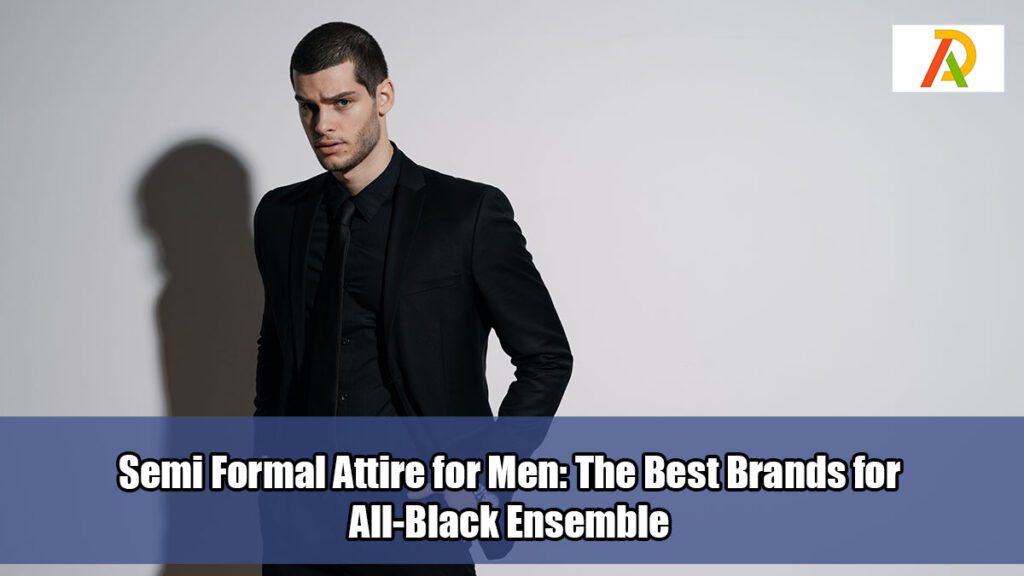 The classic all-black semi-formal attire for men never goes out of style. It embodies sophistication and elegance and can be the perfect choice for various occasions. However, not all brands are created equal. This article will highlight some of the world's best brands to consider when shopping for all-black semi-formal attire for men.
The Elegance of Semi-Formal Attire Men: Why Choose All-Black?
Semi-formal attire strikes the perfect balance between formal and casual. It's less stuffy than a tuxedo but more elevated than jeans and a shirt. Opting for an all-black ensemble can add a layer of sophistication and versatility to this attire.
An all-black semi-formal look can be pulled off with a well-tailored black suit, a crisp black shirt, a black tie, and polished black shoes. It's a timeless look, suitable for cocktail parties, corporate events, dinners, or even weddings.
Read more
Top Brands for All-Black Semi-Formal Attire
Finding the right brand for your all-black semi-formal attire can make all the difference in fit, quality, and overall style. Here are some of the best brands to consider:
Hugo Boss: The Epitome of Semi-Formal Attire for Men
One brand often comes to the forefront when considering semi-formal attire for men: Hugo Boss. With its origins dating back to 1924, this renowned German brand has made a significant mark in men's fashion.
Sleek Design and High-Quality Materials
Hugo Boss has long been associated with sleek designs that resonate with modern men. Their suits are created with a minimalist aesthetic, focusing on clean lines and structured silhouettes that contribute to a refined, semi-formal style.
The materials used by Hugo Boss are selected with meticulous attention to quality. The brand utilizes premium fabrics that look luxurious and offer durability and comfort. Whether it's a pure wool suit for winter warmth or a breathable cotton-linen blend for the summer months, you can expect superior quality from this brand.
Diverse Range of Black Suits
Hugo Boss provides a diverse range of black suits to cater to different tastes and needs. From slim-fit suits that highlight the wearer's physique to more relaxed fits for comfort, there's a style for everyone. This diversity ensures you find the perfect all-black ensemble to match your semi-formal occasion.
Unparalleled Tailoring and Fit
What truly sets Hugo Boss apart is its commitment to exceptional tailoring. Each suit is crafted with precision, ensuring a fit that feels custom-made. Their tailors pay close attention to every detail, from the lining and buttons to the stitching and seams, guaranteeing an impeccably tailored suit.
Hugo Boss offers a seamless combination of design, quality, and fit. Their range of black suits perfectly encapsulates semi-formal style, making them an ideal choice for anyone seeking sophisticated semi-formal attire. When you choose Hugo Boss, you're not just buying a suit but investing in a piece of clothing that embodies timeless style and impeccable craftsmanship.
Armani: The Quintessence of Italian Sophistication in Semi-Formal Attire
Armani's reputation as a pioneer in men's fashion has remained unrivaled for decades. Known for their all-black semi-formal suits, they embody Italian sophistication and elegance that sets them apart in the crowded world of menswear.
Armani: The Embodiment of Italian Sophistication
Italy has always been synonymous with high fashion, and Armani has significantly contributed to this image. The all-black semi-formal suits by Armani are a testament to this sartorial legacy. The brand imbues each piece with refined Italian sophistication, ensuring you make a statement at any event.
The allure of Armani lies not only in their elegant design but also in the overall experience of wearing an Armani suit. It's about feeling confident, polished, and sophisticated in a garment that fits impeccably and is crafted with meticulous attention to detail.
A Diverse Range of Styles
Armani understands that every man has his unique style and preferences, which is why they offer a diverse range of styles. Whether you prefer a modern, slim-fit suit that accentuates your physique or a more traditional cut that offers a classic silhouette, Armani has you covered.
Their collection ranges from single-breasted suits for a sleek, modern look to double-breasted versions for a more traditional appeal. With an Armani suit, you can be confident that you're dressed appropriately for any semi-formal occasion, from business events to cocktail parties.
The Armani Promise: Quality and Craftsmanship
Each Armani suit reflects the brand's commitment to quality and craftsmanship. The use of premium materials, coupled with meticulous tailoring, ensures a perfect fit and a long-lasting garment. Whether investing in your first Armani suit or adding to an existing collection, you can be assured of the brand's commitment to quality.
Armani has built a formidable reputation in men's fashion thanks to their signature Italian sophistication and commitment to quality. Their all-black semi-formal suits are a class apart, offering a diverse range of styles that cater to the modern man's needs. When you choose Armani, you choose a garment that epitomizes timeless elegance and unparalleled style.
Ralph Lauren: The Embodiment of American Style in Semi-Formal Attire
When it comes to representing quintessential American style in the realm of semi-formal attire, Ralph Lauren stands in a league of its own. Known especially for its Black Label collection, Ralph Lauren's range of elegant black suits exemplifies the perfect blend of class, elegance, and timeless style.
Ralph Lauren: A Symbol of American Elegance
Ralph Lauren's name has become synonymous with a unique brand of American elegance that blends classic style with a modern sensibility. Their semi-formal all-black suits are a testament to this legacy, crafted with a distinct aesthetic that is sophisticated and understated.
These suits are designed for the modern gentleman who values tradition and appreciates contemporary trends. The outcome is a versatile ensemble that transitions effortlessly from business meetings to cocktail events.
The Black Label Collection: A Cut Above
Ralph Lauren's Black Label collection is particularly celebrated for its semi-formal attire. The collection offers an array of elegant black suits, showcasing the brand's commitment to quality and design. Each piece is meticulously crafted, offering sleek silhouettes that flatter and impress.
From the slim-fit style that exudes modern sophistication to the classic-fit suits that appeal to traditional sensibilities, the Black Label collection has something for every taste.
Ralph Lauren's Commitment to Quality
One of the key reasons for Ralph Lauren's enduring popularity is its unyielding commitment to quality. Every suit in their collection is made from the finest materials, such as pure wool and luxury blends, ensuring durability and comfort.
In addition to superior materials, Ralph Lauren also prioritizes impeccable tailoring. Each suit is precisely cut and expertly assembled, guaranteeing a perfect fit. This attention to detail makes a Ralph Lauren suit a worthy investment.
In conclusion, Ralph Lauren continues to be a beacon of American style, offering semi-formal attire that combines traditional elegance with contemporary trends. Their all-black suits, particularly from the Black Label collection, are a testament to their commitment to quality, design, and craftsmanship. Opting for a Ralph Lauren suit is not merely a fashion choice; it's an investment in timeless style and sophistication.
Zara: Budget-Friendly Elegance in Semi-Formal Attire
Zara is an ideal destination for those who wish to balance style with budget. Known for its fashionable and affordable all-black semi-formal attire for men, Zara offers a range of contemporary suits and accessories that give you a polished and sophisticated look without breaking the bank.
Zara: A Powerhouse of Affordable Style
Zara has made a name for itself as a brand that successfully merges affordability with style. They offer semi-formal attire that reflects current fashion trends and provides a wide array of all-black options. This range allows you to stay on-trend and stylish without compromising your budget.
Zara's commitment to affordable style doesn't mean they compromise on design or quality. Their suits are meticulously designed with a keen eye for detail, providing a modern, sleek look suitable for various semi-formal events.
Contemporary Black Suits and Accessories
Zara's collection of contemporary black suits offers a variety of styles, from slim-fit cuts that highlight your physique to relaxed cuts that ensure comfort while maintaining a polished appearance. They offer an array of suit styles, including single-breasted and double-breasted, ensuring a suit style for every preference.
In addition to suits, Zara also provides a range of accessories such as ties, pocket squares, and belts, allowing you to complete your semi-formal attire seamlessly. The brand ensures you can assemble a complete, coordinated look under one roof, saving you time and effort.
Zara's Commitment to Quality
Despite its budget-friendly prices, Zara doesn't compromise on quality. They utilize durable and comfortable materials in their suits and adhere to high-quality standards in their tailoring process. This commitment ensures that your Zara suit will not only look good but also last, offering excellent value for money.
In conclusion, Zara's semi-formal all-black attire for men proves that style doesn't need to be expensive. They offer a variety of contemporary suits and accessories that can help you achieve a stylish and polished look on a budget. Choosing Zara means choosing affordability, style, and quality, an ideal combination for the modern, budget-conscious man.
Accessorizing Your All-Black Semi-Formal Attire
While the all-black ensemble is inherently chic, the right accessories can enhance this look further. Brands like Gucci, Tom Ford, and Prada offer a selection of high-quality black leather shoes, ties, and cufflinks to complete your semi-formal attire.
The Everlasting Appeal of All-Black Semi-Formal Attire Men
In conclusion, an all-black ensemble remains a timeless, versatile choice when it comes to semi-formal attire for men. Whether you opt for a high-end brand like Armani or more budget-friendly options like Zara, the key is to find a brand that suits your style, fits well and offers quality. Remember, the devil is in the details, so don't forget those crucial accessories. With the right selection, you can confidently master the all-black semi-formal attire for any occasion.
About Author