SMS Marketing Doesn't Suck: Here's How to Use it To Generate Revenue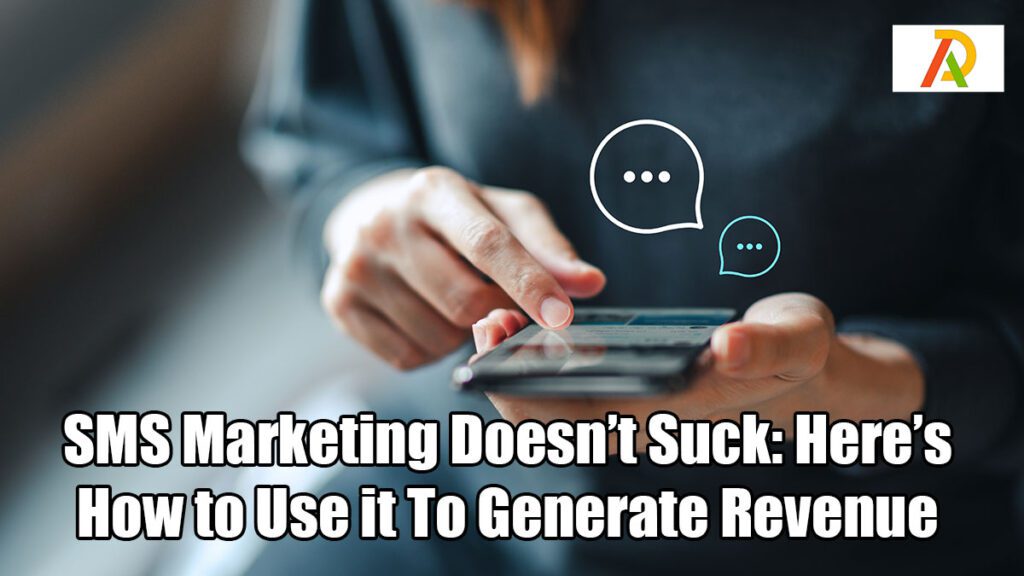 It's no secret that SMS marketing can be incredibly effective when used correctly. Studies have shown that SMS messages have a 98% open rate, while email has only a 20% open rate. Not only that, SMS marketing is also one of the most personal forms of marketing available. After all, your phone is with you almost everywhere, so your customers are always reachable.
With such high engagement rates and the ability to reach your customers wherever they are, it's no wonder that SMS marketing is gaining popularity among businesses of all sizes. Let's look into how SMS marketing doesn't suck and how you can use it to generate revenue for your business.
What is SMS Marketing?
SMS marketing is a form of marketing that uses text messages to communicate with potential and current customers. It's a way to send short, concise messages to people who have opted-in to receive them.
The benefits of SMS marketing are many. It's an immediate way to reach people, has a high open rate, and is personal. Plus, text messages are less likely to be ignored than other forms of communication like email or social media posts.
To get started with SMS marketing, you must build a list of opt-in subscribers. You can add a keyword and shortcode to your website or Facebook page or run ads with a call-to-action to join your SMS list. Once you have a list of subscribers, you can start sending them texts!
When crafting your SMS messages, keep them short and sweet. This isn't the time for long paragraphs – people are more likely to read and engage with a brief and to-the-point message. You should also ensure your messages are timely and relevant – no one wants to receive irrelevant spam texts!
SMS marketing can be an incredibly effective way to reach your target audience. Used correctly, it can help you boost sales, increase customer loyalty, and drive traffic to your website or store.
The Different Types of SMS Marketing
There are four main types of SMS marketing:
1. Promotional messages are used to promote sales and special offers.
2. Transactional messages send receipts, confirmations, and updates about a purchase or transaction.
3. Engagement messages encourage customer loyalty and interaction, such as by sending polls or coupons.
4. Notification messages are sent to keep customers updated about important information, such as changes in store hours or a new product launch.
Pros and Cons of SMS Marketing
SMS marketing can be a great way to reach customers and generate revenue, but it's not without its drawbacks. Here are some pros and cons to consider before using SMS marketing for your business:
Pros:
Can be an effective way to reach customers who may not be reached through other channels.
Can be used to send timely, personalized messages that can promote loyalty and encourage sales.
Is generally less expensive than other marketing channels.
Cons:
May be considered intrusive or annoying by some customers, leading to opt-outs.
There is a risk of coming across as spammy if messages are not well-crafted.
Must comply with strict laws and regulations around data privacy and consent.
What are the Best Ways to Use SMS Marketing?
SMS marketing can be a great way to generate revenue for your business. Here are a few tips on how to use SMS marketing effectively:
1. Use a catchy headline. Your headline should be attention-grabbing and make people want to read more.
2. Keep your message short and to the point. People are more likely to read and respond to a text message if it is short.
3. Personalize your messages. Sending a personalized message will make your customers feel valued and more likely to respond positively to your offer.
4. Use an attractive call to action. Make sure your call-to-action is clear and appealing so that people will know what they need to do next.
5. Test, test, test! Try out different headlines, calls to action, and offers to see what works best for your audience.
How to Create an Effective SMS Marketing Campaign
An effective SMS marketing campaign doesn't have to be complicated. The simpler, the better. Here are a few tips to help you get started:
1. Keep your messages short and sweet. Mobile users are more likely to read and respond to a text message that is concise and to the point.
2. Use targeted keywords. Include words or phrases that your target audience is likely to search for. This will help ensure that your message is seen by those most likely to be interested in what you have to say.
3. Incorporate call-to-actions. Give your recipients a reason to act now by including strong call-to-actions in your messages. Urge them to visit your website, sign up for your newsletter, or take advantage of a special offer.
4. Timing is everything. Make sure you send your messages at times when they are most likely to be read and responded to. Avoid late-night or early-morning texts, as well as weekends and holidays
Alternatives to SMS Marketing
Are you looking for alternatives to SMS marketing? Here are a few options that you may want to consider:
1. Social Media Marketing: With over 2.77 billion active social media users worldwide, there is a huge potential audience for your business on platforms like Facebook, Twitter, and Instagram. You can use social media to connect with potential and current customers, promote your products or services, and drive traffic to your website or blog.
2. Email Marketing: Email is still one of the most effective ways to reach your target audience. You can use email to cultivate relationships with potential and current customers, share valuable content, and promote special offers or discounts.
3. Content Marketing: A well-executed content marketing strategy can effectively generate leads and sales for your business. By creating and distributing high-quality content that educates, informs, and entertains your target audience, you can build trust and credibility, drive traffic to your website or blog, and generate leads and sales.
4. Search Engine Optimization (SEO): SEO is all about optimizing your website or blog for Google's search engine algorithms so that your site appears as high up as possible in the search results pages (SERPs). By improving your SEO, you can increase your site's visibility, drive more traffic, and generate more leads and sales for your business.
Conclusion
SMS marketing can be a great way to reach out to your target audience and generate revenue for your business. However, it is important to use it sparingly and only send messages that interest your recipients. By following the tips in this article, you can ensure that your SMS marketing campaigns are successful and help you achieve your business goals.
About Author