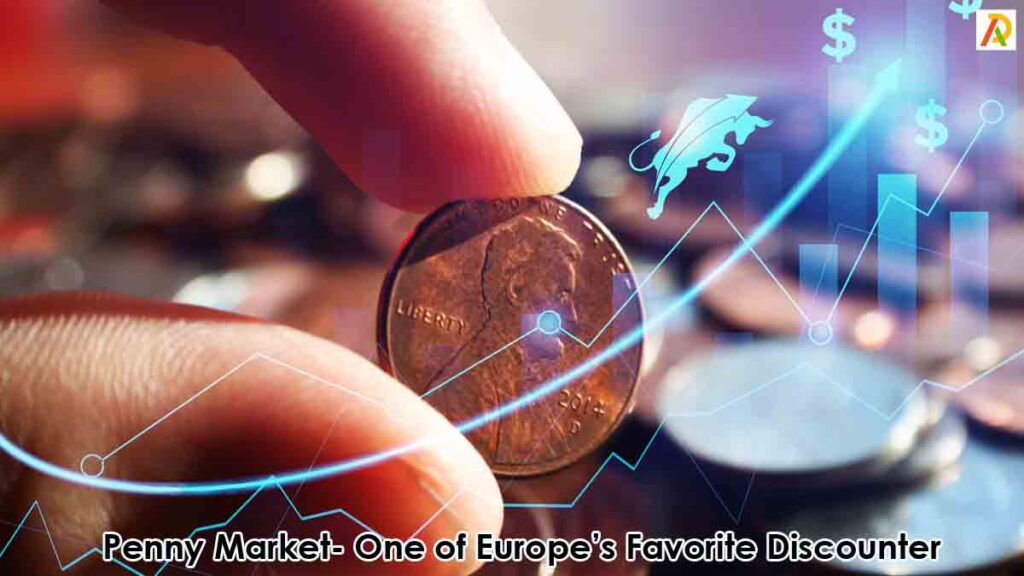 The word Penny can be highly intriguing due to its varied nuances, although most people instantly relate it to currencies by default.
Indeed, currencies come to mind first when speaking about Penny. Who doesn't know about the adage – Penny wise, Pound foolish? However, when used as an adjective, Penny refers to something tiny, minor, or small, like penny stocks. Simply said, as the context changes, the word Penny acquires completely different meanings and more so when you come across the phrase Penny market, which refers to one of the most famous supermarket chains in Germany.
There is no dearth of supermarkets in Germany. These belong to various categories like Bio Supermarket, Hypermarkets, Supermarkets, and Discount Super Markets. All these places are excellent for grocery shopping.
Supermarkets types – Germany
Bio Supermarkets
These are organic supermarkets that exclusively deal in organic food products. The two names that top the chart are Denn's Biomarkt and Alnatura, the biggest stores, alongside many other smaller and local bio supermarkets spread across Germany. Denn's has 251 stores across the nation and 148 stores belonging to Alnatura by the end of 2021. These markets are rarely one-stop shops for grocery items and other food products because these are not only quite expensive but also not available in the full range as other non-organic products. Visitors pick only a few selected products to fulfill their needs for nutritional foods sourced directly from the farms.
Hypermarkets
Hypermarkets offer a wider range of products, including groceries, clothes, and other miscellaneous items. These huge stores are almost like one-stop shops similar to places like Target and Walmart across North America. Real and Kaufland are the most popular hypermarkets in Germany.
You will find everything in one place, from groceries to cars, drugs, fashion items, household appliances, baby products, electronics, hardware, gardening items, and furniture and furnishings. The hypermarkets have numerous stores across Germany and many European countries.
Membership-only Hypermarkets
These wholesale markets come under the umbrella of Metro, the name that gained worldwide recognition. North Americans can draw parallels with Sam's Club or Costco to understand better the size and the scale of operations of these hypermarkets. You can buy bulk quantities of various items such as cookware, electronics, professional cooking equipment, and many more at discounted prices.
To start shopping, you must obtain a Metro membership available only to self-employed persons, freelancers, trade professionals, and registered businesses. In 2006, the Metro group acquired 85 Walmart Stores that could not survive in Germany.
Supermarkets
REWE and Edeka are the two names that come to mind when discussing supermarkets in Germany. Edeka, with over 11,000 stores in the country, is Germany's largest supermarket chain, while REWE, with 3,600 stores, comes second. The supermarkets store a wide variety of products, and you will surely find whatever you need, big or small, cheap or expensive. N Some supermarkets have dedicated sections that store products from other continents and countries such as India, Africa, Asia, and Latin America.
Moreover, every supermarket sells its in-house brands cheaper than the branded equivalent. REWE owns the "Ja!' brand, and 'Gut and Gunstig' is the brand that belongs to Edeka. Moreover, every supermarket has its discount supermarket brand, such as Penny, which belongs to REW, and Edeka owns the Netto. REWE is most popular in Germany for online grocery shopping as their services are available across most big cities.
Discount supermarkets
The five cheapest supermarkets in Germany are Penny, Lidl, Aldi Nord, Netto, and Aldi Sud. The stores are special because of the items' low prices and stiff competition between these supermarkets as each one tries to get ahead of the others. Interestingly, a 2020 study by a German journalist revealed that despite trying to bet one another in pricing, all discount supermarkets have the same price for essential items such as coffee, milk, pasta, butter, and water. The in-house brands of the discount supermarkets are even cheaper than the items of other brands. Better known for producing quality custom-branded products, Aldi is a highly popular name in Germany.
The expanded reach of the Penny Market
The German discount supermarket chain has a convincing presence beyond the country and occupies a special place in people's lives in many European countries because of the customer-focused range of high-quality products. You can select from many fresh products at the most affordable prices. Besides Germany, Penny has successful operations in Austria, Hungary, the Czech Republic, Romania, and Italy. Besides offering products that match the country-specific range, Penny also serves as a national discounter.
Penny ownership
Penny started as a humble grocer in Bad Homburg in Germany in 1973, with its founder Leibbrand Guppe holding the ownership until the REWE group acquired it and put it on the fast growth track in 1989. With an estimated turnover of € 33.94 billion as of 2021, REWE operates several banners, including Penny, REWE Kaufpark, REWE (Partners), REWE Center, REWE City, REWE, and REWE To Go. Among the expansive network of 9725 REWE stores across Germany, there are 3,150 Penny outlets.
Performance metrics
The REWE group recorded 10.4% sales growth amounting to € 84.8 billion at the end of the financial year 2022 showing a significant increase from the earlier € 76.8 billion in the previous year. The divisional performance was impressive too. The Retail Germany business segment of the REWE group comprising of Penny and REWE stores reported 6.8% sales growth year-on-year, amounting to € 37.4 billion. The international Trade Unit includes the CEE segment (Billa, IKI), the Austrian segment (Billa, Bipa, Adeg), and Penny International sales increased by 10.5% to € 17.3 billion.
The sales growth of Penny Germany stood at € 8.8 billion, which translates to 8.9%, while Penny International, which has operations in Hungary, Austria, the Czechia, and Romania, posted a 16.7% sales increase amounting to € 6.6 billion. Romania posted the strongest sales growth for Penny, followed by Hungary and Czechia.
PENNY in Europe
Belonging to REWE, one of the most successful trading companies with a name among the travel and tourism business groups in Europe, Penny has an impressive presence in five other European countries besides Germany.
PENNY Austria
Penny has 300 stores across Austria, and the product range includes more than 1,900 items served by 2,700 employees. The Austrian freshness and brand quality are the sources of strength of Penny Austria, the only domestic food discounter offering a personalized butcher service across 200 locations. Freshness is the motto of Penny that ensures freshness until checkout for fruits and vegetables. The stores keep baking bread and pastries several times throughout the day to maintain freshness. Weekly changing of products helps to complete the range accompanied by promotions in non-food and food items. Penny customers can access 'jo,' the largest domestic customer club.
PENNY Czech Republic
The beautifully arranged PENNY market halls allow customers to easily find what they are looking for without wasting too much time. The craftily-themed store design guides them through the exciting product ranges neatly arranged according to themes. A wide range of high-quality and affordable Czech brands, such as Dobre Maso, Crip Crop, Starochech, and Reznikuv Talir, is available. PENNY has been the leading Czech discounter since 1997, and the country is the largest foreign market for the German discount supermarket. The company has 7,500 employees to manage 385 branches. The modernization campaign is in progress to modernize the stores with an eye on environmental protection with an emphasis on saving electricity.
PENNY Germany
PENNY has a strong connection with the people of Germany while serving customers and taking good care of employees across the 2,150 stores. People are fond of PENNY not only for its high-quality products at highly affordable prices but also because of the opening times and easy accessibility that best suits customers. The customer-centric approach reflects in the customer-oriented product range focusing on freshness.
PENNY Hungary
Hungary is a small country on the Pannonian Basis with a population of 9.8 million spread across an area of 93,000 square kilometers. An EU member state since 2002, Hungary has a high standard of living, and the country's currency is forint. PENNY gains from the high purchasing power of the Hungarians, and the country's FMCG (Fast Moving Consumer goods) market, which includes foods and beverages, experience the highest growth among the EU nations. In recent years, the FMCG sector has grown by 8.3% every year.
Headquartered in Alsonemedi near Budapest, the first PENNY shop opened in 1996. By the end of 2020, there were 226 PENNY stores nationwide, with an employee strength of 4,500.
PENNY Italy
PENNY Italy is a highly successful business that thrives on enthusiasm, passion, and professionalism. Customers appreciate easy access during shopping, ensuring a smooth shopping experience while saving time. Moreover, high-quality products at fair prices keep the customers happy. PENNY has 385 branches across Italy since it began operations in 1994. Around 4,000 employees take care of the branches and seven distribution centers. With high growth potential, Italy has been a favorite country for PENNY that banks on investing and expanding fast while eyeing new markets for the future. Moreover, the modernization of the existing locations is a continuous process.
PENNY Romania
PENNY wins over Romanian customers by meeting their expectations of organic products, variety, and freshness. Moreover, staying tuned with the current trends gives the company a cutting edge in competition. An attractive range of organic foods has been the company's way of driving more people toward organic products that ensure healthy living. PENNY has operated in Romania since 2001, with 256 stores manned by 4,400 employees. As an employer, PENNY gives due emphasis to establishing itself as an equal opportunity employer and personal development. Moreover, energy conservation and efficiency is a non-negotiable agenda for the company.
The first PENNY Sustainable Store in Germany
Sustainability has been central to PENNY's business plans, and the company opened its first Sustainable Store in Germany in Berlin Spandau in 2020. 'PENNY Gruner Weg,' located at Fehrbelliner Strasse 29, is the first sustainability adventure market of the company. The 800 square meter store started with 15 employees and two trainees, a modern neighborhood market. The company's focus on 20 points to attain the sustainability goals is visible and tangible for customers and interactive. The opening of the sustainability store bears testimony to the company's efforts at considering sustainability as a continuous process that has become a part of the company's culture.
The store maintains a highly interactive environment so that customers can find answers to many sustainability-related questions. For example, the employees are ready to answer the question about sorting the refrigerator to ensure that food stays fresh longer. One of the most attractive aspects of the store is a periscope that allows customers to dive into an underworld visually and learn about product traceability and more sustainable fishing.
Avoid and reduce packaging waste.
Another important sustainable initiative of PENNY Market includes a new packaging approach to avoid and reduce packaging waste. The company aims at packaging all own Private Branded items more environment-friendly and ensuring the project's completion by 2030. The new packaging approach relies on using grass paper, reducing the film thickness, and doing away with packaging altogether. For example, the company offers bare fruits and vegetables with stickers and banderoles for marking and identification. PENNY vows effective recycling and has used water bottles made from recycled materials for packing 'PENNY Ready water, a private label brand.
PENNY market maintains a high commitment towards people and the environment while expanding its business across Europe helped the company occupy a place of its own in people's lives. Offering a wide range of high-quality and fresh products has been the hallmark of the discount store that acts as the national discounter of many countries. 
About Author